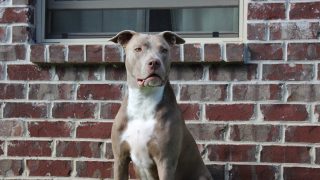 $5,000 Reward Offer for Information After Sacramento Dog is Trapped and Burned in a Crate
Under California law, animal cruelty is charged as a felony
Contact: media@aldf.org
Sacramento, CA — The national nonprofit Animal Legal Defense Fund is offering a $5,000 reward for information leading to the arrest and conviction of the perpetrator(s) responsible for locking a small dog in a crate and setting him on fire. At 12:30am January 21, neighbors reported a trash fire outside the Oak Plains Masonic Lodge on 3010 Becerra Way, near Watt and Marconi avenues. The fire turned out to be a burned dog, who may have been heard whimpering or howling before Sacramento Metro Fire District firefighters arrived on the scene and realized the fire was actually a burning dog in a dog crate.
According to media reports, the dog's wounds were catastrophic. "It was a small dog, in a small crate that was burned beyond belief," said Metro Fire Captain Michele Eidam. The fire department is working with the Sacramento County Sheriff's Department to investigate this heinous crime.
Under California Penal Code § 597(a) any person convicted of maliciously and intentionally maiming or killing an animal can be imprisoned for up to three years in county jail and/or fined $20,000 for felony animal cruelty. In California, it is at the district attorney's discretion whether animal cruelty is charged as a felony. Intentionally killing a dog is against the law in all 50 states.
"Our hearts break for this poor dog, who must have suffered agonizing pain from this sadistic act," said Stephen Wells, executive director of the Animal Legal Defense Fund. "Animal abusers are usually repeat offenders—against animals and humans—and this perpetrator poses a grave threat to the community."
Anyone with information that might lead to the arrest and conviction of the person(s) responsible for the killing of this dog should call the arson tip line at 916-859-3775.
Related
Thanks to the dedicated work of the Sacramento SPCA, the Sacramento County Sheriff's department, and the Sacramento Metro Fire department, an arrest has been made.

A Courtroom Animal Advocate Program (CAAP) bill, S.2868/A.4533, which would allow law students and volunteer lawyers to advocate for animal victims in cruelty criminal cases, unanimously passed the New Jersey Senate. The bill is sponsored by Senator Nicholas Scutari and Assemblyman Raj Mukherji and endorsed by the Animal Legal Defense Fund.

Animal protection advocate and actress Kim Basinger sent a letter to Craigslist CEO Jim Buckmaster with an urgent request the company end all animal posts on its platform.