2010 Advancement of Animal Law Scholarships
The Animal Legal Defense Fund's Advancement of Animal Law Scholarships are awarded to second- and third-year law student members of Animal Legal Defense Fund Student Chapters based upon demonstrated commitment to Animal Legal Defense Fund's mission – to protect the lives and advance the interests of animals through the legal system. Scholarship recipients also act as mentors for their chapter after graduation.
Three students received the national scholarship this year for their outstanding work in the growing field of animal law: Katie Barnett, Vince Field, and Christina Fojas. "They are exceptional students who have demonstrated their commitment to advancing animal law, and for that Animal Legal Defense Fund is proud to award them these $5,000 scholarships," says Stephens Wells, Animal Legal Defense Fund's executive director.
Katie Barnett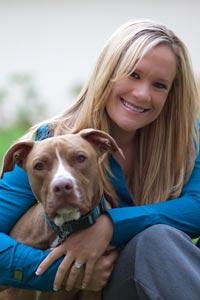 Katie Barnett is currently in her second year at the University of Kansas School of Law, where she founded the school's Student Animal Legal Defense Fund chapter. After years of working in animal rescue and coordinating adoptions and spay/neuter surgeries for countless animals, animal law has proved to be the natural path for Katie to pursue in law school. She has helped with large scale animal rescues, participated in dogfighting seizures, and assisted law enforcement with the evaluation of seized dogs.
Among her achievements in animal law, Katie did research for the Animal Legal Defense Fund's amicus curiae brief in the landmark U.S. v. Stevens case involving dogfighting videos and attended oral arguments at the U.S. Supreme Court in October of 2009. Katie has authored an academic paper published in the Animal Law & Ethics law journal entitled: "Breed Discriminatory Legislation: How DNA Will Remedy the Unfairness." She presented the canine DNA paper at the University of Baltimore's Animal Symposium in April of 2010.
Katie graduated from Missouri State University with a bachelor's degree in Political Science and a minor in Public Law. She worked for the City Attorney's Office in Springfield, Missouri, for several years and worked in complex litigation field for nearly five years prior to law school. Katie has been a law clerk for Best Friends Animal Society since May of 2009. She has two pit bull mix dogs, including a three-legged rescue named Leonidas. Both are both Delta Society therapy dogs who visit schools, hospitals, and participate in community outreach programs. "Every time Leonidas pulls himself up on the couch or paces himself up the stairs, I am inspired to keep working to ensure laws protect animals like him," says Katie.
Vince Field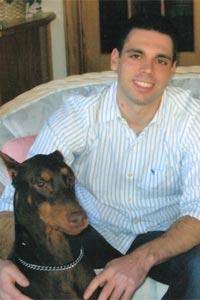 Vince Field is a 2L at the University of Chicago Law School, where he founded the University of Chicago's Animal Legal Defense Fund Student Chapter in 2008.
Since its inception, their chapter has been very active in promoting animal protection issues at the law school. They successfully petitioned the administration for an animal law course – the first such course ever offered at the University of Chicago. This class is currently being taught for the second time in as many years, and it is their goal is to make it a permanent offering. As a 1L, Vince also helped plan and organize a first-of-its-kind Animal Law Week — a weeklong series of talks on a range of animal welfare issues that attracted speakers from across the country. This month, the Animal Legal Defense Fund Student Chapter will host the 2nd Annual Animal Law Week, centered on a series of debates on "hot topics" in animal law including the recent Supreme Court decision in U.S. v. Stevens, animal abuser registry legislation, and the proper valuation of companion animals in lawsuits seeking damages.
Currently, Vince is overseeing two large scale service projects with his Animal Legal Defense Fund Student Chapter. The first involves working with local shelters to provide refuge for domestic violence victims and their pets. The second is geared towards setting up a series of pet food donation boxes to regularly provide food for the pets of the homeless free of charge.
Christina Fojas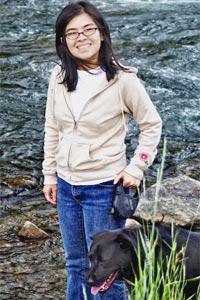 Christina Fojas attends South Texas College of Law in Houston, Texas, where she is president of the school's Animal Legal Defense Fund Student Chapter, named the Animal Law Society. The Animal Law Society raised over $10,000 collectively in charity fundraising for the 2009-2010 school year, donating to an animal therapy organization, the Harris County District Attorney's Office "Paw & Order" program, and the Spay-Neuter Assistance Program (SNAP). Currently ALS plans on sponsoring three trips of the SNAP spay/neuter bus into low-income neighborhoods to provide free pet sterilizations.
Christina is also an animal rescue volunteer and is a member/volunteer with the Texas Humane Legislation Network and the Vegan Society of Peace. Christina worked in production before law school and enjoys designing advertisements for non-profit groups. Her main interests include animal rescue, vegan issues and veterinary medicine. She works part-time at a veterinary hospital. Christina and her boyfriend have five dogs, four cats and a rescued frog between them.
Related
The amicus briefs from notable experts including Harvard University's Laurence H. Tribe filed in support of neglected horse's lawsuit against his former abuser

Join co-host Jackson Galaxy, comedian Nikki Glaser, and other special guests

The awardees helped on several critical Animal Legal Defense Fund cases