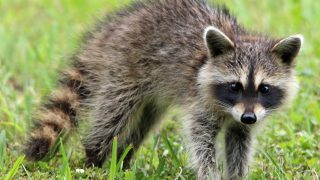 $5,000 Reward Offered for Information Leading to Arrest and Conviction in Raccoon Cruelty Case
Adult male raccoon with five aluminum bolt darts from a crossbow in West Oakland.
Contact: media@aldf.org
Oakland, CA – The national nonprofit Animal Legal Defense Fund is offering a $5,000 reward for any information leading to the arrest and conviction of the perpetrator(s) who shot an adult male raccoon with five aluminum bolt darts from a crossbow in West Oakland.
The 15lb animal was found in a church parking lot at Center Street and 10th Street on Sunday morning, January 4, 2015. Good Samaritans documented his injuries on video and brought him to WildCare, a Marin-based urban wildlife hospital and animal rescue.
WildCare's medical staff tried to save the raccoon but his injuries were too severe and he was euthanized to relieve his suffering. The raccoon's body was sent to Ca. Dept. of Fish and Wildlife for a necropsy.
It is against the law in California to intentionally inflict cruelty against any animal. Under California Penal Code § 597(a), anyone who "maliciously and intentionally maims, mutilates, tortures, or wounds a living animal" can face misdemeanor charges—one year in county lockup and/or a $20,000 fine—or felony charges amounting to up to three years imprisonment and/or a $20,000 fine.
The raccoon was found stumbling in the parking lot, with fresh wounds that indicate the attack happened relatively close to the church. 4 high-impact aluminum bolt darts were removed from the soft tissue of the raccoon's body. The injury from the fifth dart, removed from his skull, was not a survivable injury.
"This is one of the more traumatic and malicious injuries I've seen," said Kelle Kacmarcik, of WildCare. "One of WildCare's primary goals is to provide nonlethal, humane options for coexisting with wild animals like raccoons, not shooting them with crossbows."
"People who harm animals often go on to harm humans as well," says Stephen Wells, Animal Legal Defense Fund executive director. "We call on anyone with knowledge of this cruel act to come forward for the safety of other animals and the people of this community."
Photos of the injured raccoon at WildCare are available here (warning: graphic images).
If you have information relating to the identity of the person or persons who shot this raccoon, please contact Oakland Animal Services 510-535-5602.
Related
Cows were killed in Madison, Brazos, and Robertson Counties, Texas.

Reward for information leading to the arrest and conviction of the person or people responsible for illegally shooting and killing a red wolf in Tyrrell County, North Carolina.

Animal Legal Defense Fund offers reward for information leading to the arrest and conviction