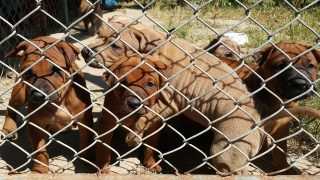 Puppy Mill Pipeline Act (New York)
S.1130/A.4283
The Puppy Mill Pipeline Act would prohibit the sale of puppies, kittens, and rabbits in retail stores.

Companion Animals
Update: The Puppy Mill Pipeline Act passed both the state Senate and Assembly! Now, it needs Governor Hochul's signature to become law. Please take action today and ask her to sign the bill into law.
---
Cities and states across the country are fighting back against puppy mills, large-scale commercial breeding facilities that maximize profits at the expense of the animals' well-being, by enacting retail pet sale bans. These laws prohibit pet stores from selling certain animals sourced from mills.
The Puppy Mill Pipeline Act (S.1130/A.4283), sponsored by Assemblymember Linda B. Rosenthal (D-67) and Senator Michael Gianaris (D-12), would prohibit the sale of puppies, kittens, and rabbits in retail stores. If enacted, New York would become the fifth state in the nation — following California, Maryland, Maine, and Illinois — to pass a retail pet sale ban.
Animals in puppy mills endure severe cruelty and neglect. Crowded into small, dirty cages and deprived of companionship and love, mother dogs are forced to have multiple litters every year until they are too old to reproduce. Once they are no longer profitable, the dogs are usually killed or abandoned. Poor sanitation, little to no veterinary care, and inadequate and spoiled food are hallmarks of puppy mills. Retail pet sale bans help crack down on these cruel operations by reducing the demand for animals bred in mills.
Retail bans also protect consumers. Many families have been saddled with hundreds or thousands of dollars in veterinary bills caring for sick animals purchased from pet stores. Some of these animals ultimately die.
If you live in New York, please take action in support of this bill.
Puppy mill operators maximize their profits by producing large numbers of puppies as quickly as possible. As a result, unsanitary conditions, disease, and neglect are rampant. Sign our pledge to boycott puppy mills. Together we can end this cruel industry.
Sign Petition