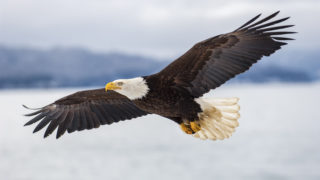 Protecting Animals from Rat Poisons (Massachusetts)
An Act Relative to Pesticides (S.487/H.825)
Would reduce the use of rat poisons in Massachusetts to protect wild animals as well as companion animals  

Wildlife
Updated
September 7, 2023
Update: On September 7, 2023, the Joint Committee on Environment and Natural Resources reported out the bill as H.825 and referred it to the House Committee on Ways and Means.
Rat poisons — also called rodenticides — not only hurt individual animals, they're also threatening the health of certain wildlife populations, including great horned owls and bobcats. Rodenticides enter the food chain through rats, who are consumed by other animals, resulting in secondary poisoning. Animals who ingest these poisons typically suffer from uncontrolled bleeding and ultimately may die.
An Act Relative to Pesticides (S.487/H.825) would monitor and reduce the use of rat poisons in Massachusetts. It would require the increased use of "Integrated Pest Management" (IPM) plans for public institutions of higher education. State law already requires schools and child care centers to adopt IPM strategies. IPM is an approach where human–animal encounters are resolved with minimal risks to humans, wild animals, and the environment. This legislation would also modernize pesticide reporting through digitization of pesticide use forms. It will allow for better tracking of rodenticide use statewide and facilitate greater ease of use by state agencies and researchers.
Take action to support legislation to regulate and reduce the use of rat poisons by mandating the use of "Integrated Pest Management" (IPM) plans on certain public property.
TAKE ACTION
Rodenticides are threatening fragile ecosystems across the country and jeopardizing the health of certain wildlife populations. A 2006-2010 Massachusetts study found that 86% of 161 birds of prey had a form of second generation anticoagulants — the most lethal, "one feeding kills," poison — in their livers. A 2012-2016 study found these kinds of anticoagulants in 96% of 94 birds tested.
There are around 80 nesting pairs of bald eagles in Massachusetts, and rodenticides are putting them at risk. In February 2023, MK, a female bald eagle who had been nesting with her mate in Arlington, Massachusetts, died of an apparent internal hemorrhage despite the efforts by wildlife rescuers and the Cape Wildlife Clinic. It is suspected her death is a result of ingesting one or more rodents who had consumed anticoagulant rodenticide. Days later, hundreds of people marched in the streets of Arlington calling for state lawmakers to pass this important legislation in honor of MK.
In July 2021, a young bald eagle died of second-generation anticoagulant rodenticide (SGAR) poisoning. The fledgling eaglet had been found on the ground in Middlesex County and rushed to Tufts Wildlife Clinic in North Grafton, where she died. The necropsy and toxicology testing confirmed lethal doses of rodenticides. In March 2021, an adult bald eagle died in her nest on the Charles River. She suffered a fatal hemorrhage after consuming smaller animals who had ingested rat poison.
In addition to harming wildlife, children and companion animals are also vulnerable to rodenticides through accidental consumption. Recently, a dog Lucy was brought to the MSPCA-Angell West with internal bleeding and bruising on her legs and abdomen — classic symptoms of rat poisons. Between 1999 and 2009, the American Association of Poison Control Centers (AAPCC) received reports of an average of 17,000 humans exposed to rodenticides annually. The vast majority, roughly 15,000, of these exposures involved children younger than 6. The AAPCC reported more than 50,000 dog poisonings from rodenticides in 2014.
This legislation is filed by Representative Jim Hawkins (D-2nd Bristol) and Senator Paul Feeney (D-Bristol and Norfolk). It is supported by the Animal Legal Defense Fund, Humane Society of the United States, Mass Audubon, MSPCA, New England Wildlife Center, Northeast Organic Farmers Association-Massachusetts, and Raptors Are The Solution-Earth Island Institute, among others. The rodenticide bills have been referred to the Joint Committee on Environment and Natural Resources.
At the end of the 2021-22 Massachusetts informal legislative session, this legislation was engrossed by the House and Senate; however, it was not enacted in time to send to the Governor.
If you live in Massachusetts, please take action and urge your state senator to support this bill.