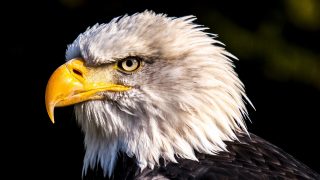 Massachusetts: Ask Your State Representative to Help Protect Animals from Rat Poisons
This action is for Massachusetts residents only.
In March, a bald eagle died in her nest on the Charles River. She suffered a fatal hemorrhage after consuming smaller animals who had, in turn, consumed rat poison. Her passing was followed in July by the death of a fledgling eaglet who had also consumed rat poison.
Rat poisons — also called rodenticides — not only hurt individual animals, they're also threatening the health of certain wildlife populations, including great horned owls and bobcats. Rat poisons enter the food chain through rats, who are consumed by other animals, resulting in secondary poisoning. Animals who eat these poisons typically suffer from uncontrolled bleeding and ultimately may die.
An Act Relative to Pesticides (H.3991), sponsored by Representative Jim Hawkins, would decrease the use of rat poisons in the state. "Integrated Pest Management" (IPM) is an approach where human-animal encounters are resolved with minimal risks to humans, wild animals, and the environment. H.3991 would mandate the use of IPM plans on public lands and publicly owned property as well as require that, before providing services, pesticide applicators provide information about IPM to consumers. It would also direct the Massachusetts Department of Agricultural Resources to move pesticide use reporting records online by 2022 and to create educational programs around IPM.
Rat poisons have no place in the Commonwealth's ecosystems. Please ask your state legislators to co-sponsor H.3991.
You can send an email to your legislator using the form below.
Join the Animal Legal Defense Fund's email list to stay up to date on lawsuits, legislation, and regulations affecting animals.
Sign Up Now
Related
The Act has authority to protect federally endangered and threatened animals such as the tigers, lions, and ring-tailed lemurs enduring inadequate treatment at Tiger Creek

Representatives Mike Quigley (D-IL) and Brian Fitzpatrick (R-PA) reintroduced the Big Cat Public Safety Act in the U.S. House of Representatives. The House of Representatives voted 272 to 114 to pass the same bill in December.

Today the House of Representatives voted 272 to 114 to pass the Big Cat Public Safety Act. Endorsed by the Animal Legal Defense Fund, the bill prohibits the private ownership of big cats and makes it illegal for exhibitors to allow direct contact with cubs.