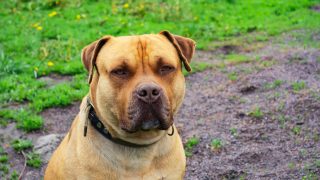 Montreal's Proposed Pit Bull Ban
Montreal SPCA v City of Montreal
In 2016, the Animal Legal Defense Fund supported the Montreal SPCA in its efforts to overturn the city's ban on "pit bull-type dogs."
Companion Animals
Status
The ban was repealed in December 2017.
In 2016, Montreal enacted sweeping regulations on "pit bull-type dogs" in the city. The ban penalized any dog deemed a "pit bull-type" regardless of the individual dog's behavior.
The new by-law, championed by then-mayor Denis Coderre in the wake of a fatal dog attack, made it illegal to adopt or otherwise acquire any dog identified as "a pit bull-type dog" within Montreal city limits. It prevented shelters from placing these dogs through adoption.
Any pit bulls grandfathered in were required to be muzzled when in public and kept on a leash no longer than four feet. In order to be grandfathered in, Montreal pit bull owners were required to purchase a special permit and pass a criminal background check.
The Animal Legal Defense Fund opposes breed-discriminatory laws like the one passed by Montreal — and the similar laws in effect in hundreds of communities across the United States, as well. These laws are often passed in the immediate wake of one tragic event.
But "breed specific legislation" like Montreal's have been shown to be wholly ineffective at reducing dog bites or increasing public safety. Laws that are breed-neutral and focus on individual animal and guardian behavior allow communities to address dangerous dogs effectively.
Montreal's by-law faced enormous opposition, much led by the Montreal SPCA. We supported the Montreal SPCA in its efforts to overturn the city's ban. In addition to lobbying against the law, almost immediately after the ban went into effect in 2016, the Montreal SPCA filed a lawsuit against the city.
Fifteen months after the controversial restrictions went into effect, Montreal's new mayor Valérie Plante lifted the city's ban on pit bulls in favor of breed-neutral dangerous dog regulations.
The Montreal SPCA's work wasn't done. The organization sponsored a petition to block province-wide legislation that would give the Quebec government authority to ban specific dog breeds.
Help animals win the legal protections they so desperately need and deserve, and ensure they have an advocate in courtrooms and legislatures across the country.
Take Action Now