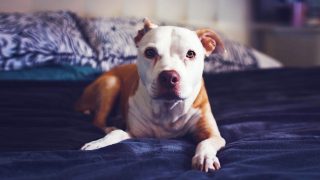 Ensure That Dogs and Their Families Can Stay Together (Massachusetts)
An Act to Maintain Stable Housing for Families with Pets in an Economic Crisis and Beyond (H.1437/S.885)
Extends housing protections for families with companion animals during the COVID-19 emergency and prevents breed-related discrimination in housing and property insurance.
Companion Animals
For many Massachusetts families with companion animals, housing can be hard to find and retain — particularly for larger-size dogs or those of certain breeds. Lack of access to animal-friendly housing can lead to housing insecurity for vulnerable families or the surrender of a beloved companion animal to a shelter or rescue group.
An Act to Maintain Stable Housing for Families with Pets in an Economic Crisis and Beyond (H.1437/S.885) would help keep families housed together with their companion animals during and after the pandemic.
The bill would impose a temporary ban on evictions that are based on a tenant having a dog without written permission, a moratorium that would conclude one year after the COVID-19 emergency ends, and would also require hotels to allow companion animals during the pandemic.
In addition, it would prohibit housing providers from banning dogs based on their size, weight, appearance, or breed. Far too often, responsible guardians and their dogs are denied housing based on these factors alone, irrespective of the individual dog's behavior or level of training and socialization.
Furthermore, the bill would prevent insurance companies from denying, canceling, failing to renew, or charging an increased premium for homeowners' or renters' insurance based on a dog's breed or perceived breed. It would still permit insurance companies to refuse coverage for dogs deemed dangerous or with a bite history. Dogs should be judged as the individuals they are — not based on outdated stereotypes.
This legislation is sponsored by State Rep. Dave Rogers (D-24th Middlesex) and State Sen. Anne Gobi (D-Worcester, Hampden, Hampshire and Middlesex). It has been referred to the Joint Committee on Housing and is scheduled for a hearing on October 12, 2021.
Learn more about animal-friendly Massachusetts legislation at aldf.org/massachusetts.
Join the Animal Legal Defense Fund's email list to stay up to date on lawsuits, legislation, and regulations affecting animals.
Sign Up Now