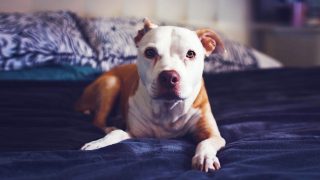 Massachusetts: Help Dogs Stay with Their Families
This action is for Massachusetts residents only.
All too often, Massachusetts families struggle to find animal-friendly housing — a problem that can lead to housing insecurity or the surrender of loved companions to animal shelters.
Now, the Massachusetts Legislature is considering a bill, An Act to Maintain Stable Housing for Families with Pets in an Economic Crisis and Beyond (H.1437/S.885), that would help ensure that companion animals and their families can stay together both during and after the pandemic.
This bill would prevent certain housing providers from banning dogs based on their size, breed, or perceived breed; prevent evictions based on the presence of a dog without written permission until one year after the COVID-19 emergency ends; and require hotels to allow companion animals during the pandemic. It would also stop insurance companies from canceling, refusing to renew, or charging a higher premium for homeowners' or renters' insurance based on a dog's breed.
Please use the form below to send a message to your state legislators, urging them to support this important legislation. If your family has faced difficulty securing housing or insurance because of discrimination against dogs by size or breed, please share your story in your message. Personalizing your message will help it stand out.
Join the Animal Legal Defense Fund's email list to stay up to date on lawsuits, legislation, and regulations affecting animals.
Sign Up Now
Related
Huston narrates the Animal Legal Defense Fund film demonstrating the impact legal advocates can have on behalf of animal cruelty victims

Class-action lawsuit alleges thousands in California purchased dogs under the false belief they were rescue animals

The Los Angeles Superior Court has granted a preliminary injunction that halts the Kenneys, unscrupulous internet puppy sellers, from advertising and selling puppies until the lawsuit is decided on the merits.