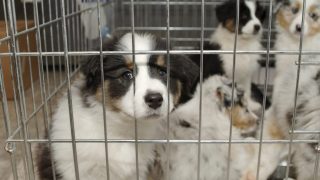 Empowering Municipalities to Address Pet Shops and Fight Puppy Mills (Connecticut)
An Act Concerning Municipal Restrictions on Pet Shops (HB 6542)
Clarifies Connecticut towns and cities have the authority to place restrictions on pet shops, including passing retail pet sale bans to fight puppy mills

Companion Animals
Update: Unfortunately, this bill failed to be raised in the Planning and Development Committee by a key legislative deadline. We are grateful to the legislators, the coalition, and the many Animal Legal Defense Fund supporters who advocated for this bill.
There is a growing movement at every level of government against the cruel puppy mill industry, in which commercial breeding facilities keep animals in poor conditions while mass-producing them for sale. Often confined to barren, wire cages with little companionship, dogs in puppy mills suffer physically and psychologically. They are generally denied access to clean food and water or veterinary care. Mother "breeder" dogs give birth to multiple litters per year and are typically abandoned or killed when no longer deemed useful to puppy mill operators.
Virtually all animals sold at pet shops are bred in mills. Pet shops are the preferred sales outlet for puppy mills because they allow the cruelty at the mills to remain hidden from the consumer. Many families have been saddled with hundreds or thousands of dollars in veterinary bills caring for sick animals purchased from pet shops. Some of these animals ultimately die.
An Act Concerning Municipal Restrictions on Pet Shops (HB 6542) clarifies that Connecticut municipalities are empowered to enact and enforce a retail pet store sales ordinance to help close the puppy-mill-to-pet-shop pipeline should the community choose to adopt one. This bill is needed because uncertainty around the matter developed in 2019 when the Connecticut Department of Agriculture intervened in Stamford when the city was considering banning the sale of dogs, cats, and rabbits in pet stores, claiming that the state's authority preempted municipal authority. Towns and cities should be able to place restrictions on pet shops beyond the minimal regulations imposed under state law.
Three states and more than 370 communities nationwide have already enacted retail pet sale bans. Stamford, Norwalk, and Manchester recently passed Resolutions in support of fighting puppy mills by promoting business best practices that include products and services and partnering with rescues and local shelters to adopt out animals.
HB 6542 is co-sponsored by Representatives David Michel (D-146th), Representative Nicole Klarides-Ditria (R-105th), David K. Labriola (R-131st), Raghib Allie-Brennan (D-2nd), Dorinda Borer (D-115th), Jason Doucette (D-13th), John "Jack" F. Hennessy (D-127th), Michael A. Winkler (D-56th), Amy Morrin Bello (D-28th) and Senator Saud Anwar (D-3rd).
Learn how to pass a retail pet sale ban in your community.
Join the Animal Legal Defense Fund's email list to stay up to date on lawsuits, legislation, and regulations affecting animals.
Sign Up Now