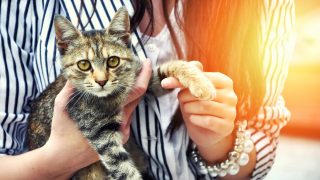 Courtroom Animal Advocate Program (Florida)
SB 1006/HB 989
Courtroom Animal Advocate Program (CAAP) laws allow advocates — supervised law students or volunteer lawyers — to advocate for animal victims in criminal cruelty cases.

Companion Animals
Proposed legislation, SB 1006/HB 989, creates a Courtroom Animal Advocate Program (CAAP) in Florida. The bill would empower volunteer lawyers to represent the interests of animals in criminal cases or civil proceedings concerning an animal's well-being.
These volunteers assist the judge by monitoring the case, gathering information from veterinarians, animal control officers, and law enforcement officials, making recommendations regarding the animal's interests, and providing a victim impact statement to the court as appropriate.
The reality is that prosecutors and law enforcement officials often lack the resources and expertise necessary to address crimes against animals. Considering these cases are oftentimes unusually complex — involving victims who can't speak for themselves and complicated forensic issues — CAAP laws fill a gap in the justice system. The Animal Legal Defense Fund provides free legal assistance to advocates operating under a CAAP law, just as we do for prosecutors, law enforcement, judges, and veterinarians handling animal cruelty cases.
This bill is sponsored by Senator Jennifer Bradley (R-5) and Representative Lindsay Cross (D-60).