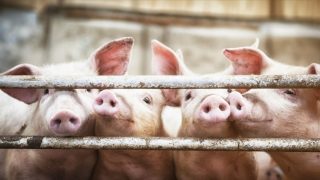 CAFO Statistics for Indiana 2016-2018
Confined Animal Feeding Operations
The below map of Indiana details the confined animal feeding operations (CAFO)—also known as factory farms—that are considered "medium" sized, and that also received loans or grants from the federal Farm Service Agency (FSA) between August 3, 2016 to August 13, 2018.
FSA now defines a "medium" CAFO as confining between 750 and 2,499 pigs, or 16,500 to 54,999 turkeys, to give two examples. Many of these animals experience natural air and sunlight only once in their short lives—while crammed together on a truck driving to the slaughterhouse.
Factory farms have a suite of harmful effects on surrounding communities, the animals they confine, and the environment—including the emission of methane, ammonia, and other noxious gases, the pollution of nearby land, groundwater, and surface water, and the spread of antibiotic-resistant bacteria. Most factory farms store animal waste in huge pits or open-air lagoons, both of which are prone to leaks and spills.
Between August 2016 and August 2018 the Farm Service Agency provided over $100,000 of loan funding each to 105 CAFOs. Nearly all of these direct and guaranteed loans were given without any substantive environmental review, which is required by the National Environmental Policy Act (NEPA). In 2016 the FSA issued a regulation excluding "medium" CAFOs from environmental analysis under NEPA. A coalition of organizations, including the Animal Legal Defense Fund, filed a lawsuit challenging the regulation.
If you or your organization is working on farm credit issues or anti-CAFO organizing and are interested in the FOIA responses we received, please email paralegal@aldf.org.
Factory Farms in Indiana
(hover over counties to see the farms that received FSA loans)
Confined Feeding Operations (CFOs)
All regulated animal feeding operations in Indiana are considered confined feeding operations (CFO). To be regulated under the Confined Feeding Control Law in Indiana, you must meet the following size of any one livestock group listed below:
300 or more cattle
600 or more pigs or sheep
30,000 or more birds (chicken, turkey, or ducks)
500 horses in confinement
Concentrated Animal Feeding Operations (CAFOs)
The concentrated animal feeding operation (CAFO) designation is strictly a size designation in Indiana. Farms of this size are permitted under the CFO rule, but have a few added requirements under Indiana regulations. A CFO that meets the size classification as a CAFO is a farm that meets or exceeds an animal threshold number in the U.S. Environmental Protection Agency's definition of a large CAFO, which is:
700 mature dairy cows
1,000 baby calves (veal)
1,000 cattle other than mature dairy cows
2,500 pigs above 55 pounds
10,000 pigs less than 55 pounds
500 horses
10,000 sheep or lambs
55,000 turkeys
30,000 laying hens or chickens with a liquid manure handling system
125,000 chickens with a solid manure handling system
82,000 laying hens with a solid manure handling system
30,000 ducks with a solid manure handling system
5,000 ducks with a liquid manure handling system
Counties with medium-sized CAFOS that received FSA loans between Aug. 3, 2016 - Aug. 13 2018.
Counties with no medium-sized CAFOS that received FSA loans in the same time frame.
County
Adams
Allen
Bartholomew
Boone
Carroll
Cass
Clinton
Crawford
Daviess
Decatur
Dekalb
Deleware
Dubois
Elkhart
Fayette
Fountain
Franklin
Gibson
Greene
Hamilton
Hancock
Henry
Howard
Huntington
Jackson
Jay
Jennings
Johnson
Knox
Kosciusko
LaGrange
Lake
LaPorte
Lawrence
Madison
Marion
Martin
Miami
Noble
Ohio
Porter
Pulaski
Ripley
Rush
Scott
Shelby
Spencer
St. Joseph
Steuben
Sullivan
Tippecanoe
Tipton
Vanderburgh
Vigo
Wabash
Warren
Warrick
Washington
Wayne
Wells
White
Whitley
CAFO Types
Poultry (1), Unknown (1)
Unknown (1)
Unknown (2)
Unknown (1)
Hogs (3)
Hogs (7), Unknown (1)
No Medium-Sized CAFOs Receiving FSA Loans
Turkeys (1)
Poultry (1), Turkeys (3), Unknown (1)
Unknown (4)
Unknown (1)
Unknown (1)
Turkeys (4), Unknown (3)
Hogs (1), Unknown (3)
Unknown (1)
No Medium-Sized CAFOs Receiving FSA Loans
Unknown (2)
Turkeys (1)
Turkeys (1), Unknown (2)
No Medium-Sized CAFOs Receiving FSA Loans
No Medium-Sized CAFOs Receiving FSA Loans
Unknown (1)
No Medium-Sized CAFOs Receiving FSA Loans
Hogs (1), Veal Cows (1), Unknown (1)
No Medium-Sized CAFOs Receiving FSA Loans
Unknown (2)
No Medium-Sized CAFOs Receiving FSA Loans
Unknown (2)
No Medium-Sized CAFOs Receiving FSA Loans
Hogs (1)
No Medium-Sized CAFOs Receiving FSA Loans
No Medium-Sized CAFOs Receiving FSA Loans
No Medium-Sized CAFOs Receiving FSA Loans
Broiler Chickens (1)
Unknown (1)
Unknown (1)
Turkeys (1)
Hogs (3)
Hogs (2), Unknown (2)
Unknown (2)
No Medium-Sized CAFOs Receiving FSA Loans
No Medium-Sized CAFOs Receiving FSA Loans
Unknown (2)
Hogs (2)
No Medium-Sized CAFOs Receiving FSA Loans
Unknown (1)
No Medium-Sized CAFOs Receiving FSA Loans
No Medium-Sized CAFOs Receiving FSA Loans
Unknown (3)
Poultry (1)
Hogs (1)
No Medium-Sized CAFOs Receiving FSA Loans
No Medium-Sized CAFOs Receiving FSA Loans
No Medium-Sized CAFOs Receiving FSA Loans
Hogs (2), Unknown (2)
Hogs (1)
No Medium-Sized CAFOs Receiving FSA Loans
Broiler Chickens (1), Unknown (5)
Layer Chickens (1), Unknown (3)
Hogs (1), Unknown (2)
Hogs (4), Unknown (2)
Poultry (1), Unknown (2)