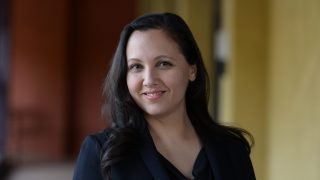 As a previous Director of the Project Management Program, Liberty Mulkani oversees the planning, monitoring and fulfillment of the Animal Legal Defense Fund's key events and campaigns. The Project Management team handles a large roster of projects, including: the popular Animal Law Conference in conjunction with the Center for Animal Law Studies (CALS) at Lewis & Clark Law School, Animal Legal Defense Fund's major campaigns, animal law receptions and exhibits at multiple conferences throughout the year, fundraising, legislative and CLE events, the annual staff retreat, and logistics for internal leadership and board meetings.
Liberty has worked with the Animal Legal Defense Fund in various capacities for over 15 years, first as a volunteer and then as the student liaison for the Animal Law Program. Her work organizing the first Future of Animal Law Conference at Yale Law School in 2004 was the impetus for her later focus managing events for the Animal Legal Defense Fund. In 2005, Liberty was also a lead assistant in the care and foster placement of hundreds of dogs rescued from the notorious North Carolina hoarders in the landmark Animal Legal Defense Fund v. Woodley case.
After completing an undergraduate degree in theatre, Liberty received her M.Ed. in humane education from the Institute for Humane Education (IHE) and Cambridge College. Her thesis was titled "Men and Vegetarianism: Motivations and Barriers to Becoming Vegetarian." She draws upon this education to harmonize with issues in animal protection, environmental protection, and human rights topics. Liberty is also a director of the Vancouver Humane Society, after having sat as the board president for 10 years.
Liberty became vegetarian at 11, after learning about laboratory animal testing, and has been vegan for over 15 years. She and her husband live with the sweetest, rescued tabby, Amelie, near Vancouver, B.C.