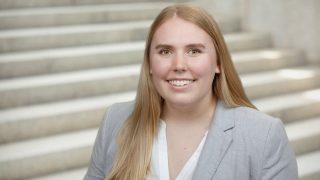 Alyssa Crowell
Law School Programs Attorney
As Law School Programs Attorney, Alyssa assists with educational programs and opportunities while managing various academic outreach resources.
Alyssa is a 2020 graduate of Lewis & Clark Law School in Portland, Oregon. During law school, she served as a Source Checker of Animal Law Review, interned for the International Animal and Environmental Law Clinic, clerked for the Animal Legal Defense Fund and the Center for Animal Law Studies, and was Pro Bono Chair of the school's Animal Legal Defense Fund Student Chapter. As Pro Bono Chair, Alyssa served as the law student representative on the planning committee for the 27th Annual Animal Law Conference. Alyssa was also selected by professors and faculty of her law school to join its Cornelius Honor Society largely due to her involvement in the animal law program. Alyssa completed her bachelor's degree at the University of Toledo where she majored in Law & Social Thought and minored in Political Science.
Alyssa is located in Ann Arbor, Michigan with her husband Tyler and their furry crew, Ella, Ruth, and Peaches.