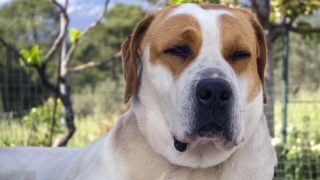 West Virginia State Police Enters Settlement with Woman Who Protected Family Dog
Police to pay $150,000
Contact: media@aldf.org
Charleston, WV — Today the Animal Legal Defense Fund announced a settlement agreement with the West Virginia State Police, State Trooper Seth Cook, and Colonel C.R. "Jay" Smithers, in a lawsuit filed on behalf of a Waverly, West Virginia family. The police department will pay $150,000 as part of the agreement following the Fourth Circuit Court of Appeals' decision to allow a trial to proceed. This is a critical decision that reaffirms the right to act lawfully to protect a companion animal from a potentially life-threatening situation.
This settlement resolves a dispute from May 2015, where plaintiff Tiffanie Hupp intervened when Officer Cook drew his gun and aimed it at the family dog, Buddy — despite the fact Buddy was leashed on the family property, wagging his tail, and posed no threat. Hupp was charged with a misdemeanor as a result of the incident but was later acquitted by a jury as the events were captured on video and played in court.
"This settlement emphasizes the need for law enforcement around the country to receive ongoing training that allows them to safely interact with animals they encounter in the field as part of their job," says Animal Legal Defense Fund Executive Director Stephen Wells. "While many jurisdictions have been involved in such trainings — and deserve to be recognized for their efforts — it's important that these programs become widely adopted by law enforcement to mitigate preventable tragedies."
The 4th Circuit's recognition that concerned bystanders have a clearly established right to verbally address officer use of force in the moment is not only a victory for those trying to protect their animal companions, but for those attempting to prevent excessive use of force against humans.
The reality is that the vast majority of canines are friendly, harmless, and should be treated with dignity. While police officers have the need and the right to protect themselves in the line of duty, adequate training can help bring these sometimes-tense situations to resolution through preparation that prioritizes non-lethal approaches for canine encounters.
The Animal Legal Defense Fund continues to work with law enforcement and first-responders to ensure mandatory canine encounter training is a priority. We also offer support to prosecutor's offices, law enforcement, judges, and victim advocates through trainings and on individual animal cruelty cases.
The lawsuit was filed in partnership with Professors John Campbell and Justin Marceau of the University of Denver, who led the litigation effort.
Related
Animal protection advocate and actress Kim Basinger sent a letter to Craigslist CEO Jim Buckmaster with an urgent request the company end all animal posts on its platform.

The Animal Legal Defense Fund files amicus brief in divorce case concerning custody and visitation of companion animals

As the Animal Legal Defense Fund combats dogfighting by working with state officials to create stronger laws and more effective penalties for those who engage in this crime, we're also hard at work to ensure the best possible outcomes for dogfighting victims.