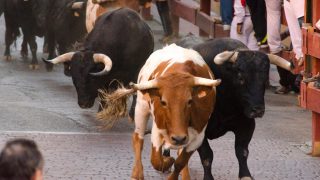 Victory: Dangerous and Cruel Bull Run Vows Never to Return to California
'The Great Bull Run' Settles Animal-Protection Groups' Lawsuit Alleging Violation of California Laws
For immediate release:
Contact:
media@aldf.org
SAN FRANCISCO — As the result of a lawsuit filed by national nonprofits Animal Legal Defense Fund (ALDF) and PETA, the Pamplona-style Great Bull Run agreed today never to return to the state of California. The lawsuit, which was filed under California's Unfair Competition Law, alleged that the events—in which panicked bulls chase fleeing runners—violate the state's cruelty-to-animals law that prohibits causing bulls unnecessary suffering, worrying bulls, and staging bloodless bullfights or similar exhibitions. The settlement means that last year's Great Bull Run in Alameda (after which one runner was hospitalized with a concussion and bruises) will have been the only one ever to be held in California.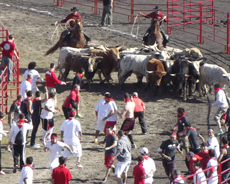 "The Great Bull Run is as dangerous as it is senselessly cruel," says PETA Foundation Deputy General Counsel Delcianna Winders. "PETA and ALDF's victory means that bulls will be spared a stressful cross-country trip from Kentucky to California, where they'll never again be terrorized for 'fun.'"
"These events are extremely stressful for the bulls," said Stephen Wells, executive director of the Animal Legal Defense Fund. "Forcing panicked animals to run like this causes unnecessary risk of injury to bulls and a public safety risk for human participants."
During the Great Bull Run events, organizers send as many as three dozen panicked bulls barreling down a narrow track at up to 35 miles per hour, chasing participants—many of whom have been drinking alcohol. Organizers attempted to hold events in Los Angeles, Lake Elsinore, and Temecula last year, but local officials refused to issue the requisite permits out of concern for public health and safety.
The ALDF and PETA were represented by in-house counsel as well as Corey Evans of the law firm Evans & Page.
For more information, please visit ALDF.org and PETA.org.
Related
The action seeks to stop Trader Joe's from deceptively labeling its cage-free eggs and misleading consumers seeking eggs from hens raised in more natural conditions.

In a momentous and long overdue shift in policy, partly in response to the Animal Legal Defense Fund's advocacy, the California Air Resources Board (ARB) has formally committed to regulating the dairy industry's greenhouse gas emissions.

The Animal Legal Defense Fund, in conjunction with other local and national groups, challenged the state of Oregon's approval of a water-pollution permit for Lost Valley Farm, a mega dairy.