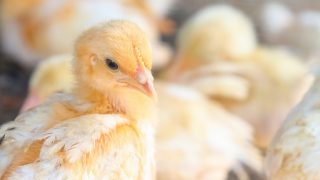 URGENT: Tell the USDA to Provide Basic Protections for Farmed Animals
Update: This action is closed.
Ten months ago, the U.S. Department of Agriculture (USDA) was scheduled to implement rules that would provide basic protections for farmed animals at organic farms – like giving chickens access to the outdoors and fresh air. But after continuous delays the USDA now plans to abandon the rules entirely.
The Animal Legal Defense Fund, as part of a coalition, is submitting formal comments to the USDA opposing the withdrawal of these rules. But we need your help to show the USDA that caring consumers want basic protections for farmed animals. And we have to act now – the USDA is only accepting comments through January 17.
Many consumers mistakenly believe that animals at organic farms are treated better than animals at non-organic farms. But that's not the case. Companies exploit this misconception by letting consumers believe that the animals are treated more humanely as part of the increased cost for products.
Use the form below to submit a comment to the USDA politely urging them to implement minimal welfare standards for animals at organic farms.
Unique comments have more impact. So please take a few minutes and add a few sentences about why you care about protecting farmed animals and consumer rights.
"I am writing to urge the USDA not to withdraw the Organic Livestock and Poultry Practices (OLPP) rule. As a consumer, I expect organic farms to be held to higher animal welfare standards. Without this rule, millions of consumers will be deceived by corporations hoping to exploit compassion by charging more for organic products. Please put this rule into effect immediately, and don't prioritize corporate interests over those of farmed animals and American consumers."
Related
Eighth Circuit Court of Appeals affirms roadside zoo's substandard care of endangered animals violated federal law.

Puerto Rico's only official zoo, Dr. Juan A. Rivero National Zoological Park, gained international attention last year for its abysmal conditions.

While the largest meat companies stand to profit from this privatized, speeded-up pig slaughter, animals, consumers, and slaughterhouse workers will pay a steep price.