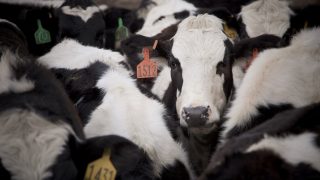 Oregon: Urge Lawmakers to Support Factory Farm Reforms
This action is for Oregon residents only.
Oregon is in the midst of a factory farming crisis. Factory farms wreak havoc on groundwater systems, emit high levels of air pollution, produce immense amounts of the greenhouse gas methane, and create an inhumane environment for both animals and workers.
We cannot wait any longer to make meaningful factory farm reforms in Oregon — it must happen this session! Contact your state legislators today and encourage them to support S.B. 85!
Take action by sending your message using the form below. Remember, these messages are more impactful if they are personalized!
Join the Animal Legal Defense Fund's email list to stay up to date on lawsuits, legislation, and regulations affecting animals.
Sign Up Now
Related
Cows were killed in Madison, Brazos, and Robertson Counties, Texas.

The U.S. Court of Appeals for the Fourth Circuit handed an important win to plaintiffs in a lawsuit challenging North Carolina's Ag-Gag law, ruling that undercover investigations and whistleblowing are considered newsgathering activities protected by the First Amendment.

Public interest coalition celebrates another win against unconstitutional statute barring undercover investigations at factory farms