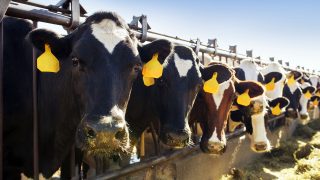 Easterday Family Ceases Attempt to Acquire Permitting for 30,000-Cow Mega Dairy in Oregon
The victory follows the passage of a factory farming law and efforts to curtail the construction of new mega dairies in the state
On August 10, 2023, media reports indicated the Easterday family is giving up its attempt to open a controversial mega dairy — the term for industrial dairy facilities that confine more than 2,500 cows — in Boardman, Ore. The Easterday family was seeking permitting for a 30,000-cow facility on the Lost Valley site, where the former mega dairy had repeatedly flouted environmental regulations, violating its water discharge permit more than 200 times, racking up hundreds of thousands of dollars in fines, and endangering community residents and wildlife by contaminating the air and water. The news comes shortly after S.B. 85, a confined animal feeding operation regulation reform bill that fell short of enacting a moratorium on new and expanded factory farms, was signed into law on July 27, 2023. The Animal Legal Defense Fund, as a part of the Stand Up to Factory Farming coalition, has been working to stop the spread of factory farms across Oregon.
In August 2022, the Animal Legal Defense Fund was one of the 22 organizations that, together, filed a petition for rulemaking with the Oregon Environmental Quality Commission. Led by members of the Stand Up to Factory Farms coalition, petitioners demanded the Commission take immediate action to address the dangerous air pollution emitted by mega dairies across the state. The proposed regulatory program targeted the staggering amount of climate-altering methane emitted by these facilities, as well as several air pollutants that pose a serious threat to human and environmental health.
In the fall of 2020, the Animal Legal Defense Fund, working with a broad coalition, petitioned the Oregon Water Resources Commission to restrict withdrawals for stockwatering from eastern Oregon's strained aquifers. All industrial animal agriculture facilities use huge quantities of water, but mega dairies are particularly water-intensive. If mega dairies were to expand in critical groundwater areas in the state, water reserves would be further threatened. The new law temporarily limits the stockwater exemption that allowed unlimited use of ground or surface water for livestock drinking water without a permit or water right.
Join the Animal Legal Defense Fund's email list to stay up to date on lawsuits, legislation, and regulations affecting animals.
Sign Up Now
Related
The gift of more than $1 million will fund the program over the next four years

This action is for U.S. residents only.

Lawsuit filed by the Animal Legal Defense Fund and The Good Food Institute asserts that the law imposes unclear and vague standards on plant-based meat producers