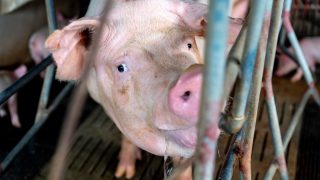 Urge Governor Newsom and the California Air Resources Board to Stop Factory Farms from Profiting from Pollution (California)
This action is for California residents only.
The factory farming industry not only harms animals and workers, but the environment and nearby communities as well — especially environmental justice communities, which are disproportionately impacted by pollution. The California Air Resources Board (CARB) is failing to prevent these harms. In fact, it is actively enabling them by allowing factory farms to exploit and profit from the Low Carbon Fuel Standard, which is a California regulation that exists to mitigate climate harm — not prop up the industries that cause it.
Factory farms emit vast quantities of pollution, including methane, a highly potent greenhouse gas. But rather than meaningfully regulating these methane emissions, CARB is using the Low Carbon Fuel Standard to reward factory farms and incentivize their expansion. Factory farms are allowed to work with the natural gas industry to capture manure methane (often euphemistically described as "biogas" or "biomethane") for use as energy in California's transportation sector. In so doing, factory farms are able to simultaneously cause environmental damage and profit from it — a situation that's been called "pay-to-pollute."
In October, the Animal Legal Defense Fund and coalition partners took action by submitting a petition for rulemaking to CARB. Now, we are asking for your help. Please urge Governor Newsom and CARB to grant our petition and stop factory farms from continuing to profit from pollution!
Please use the form below to send a message to Governor Newsom and CARB. Remember, personalizing your message will help it stand out!
Join the Animal Legal Defense Fund's email list to stay up to date on lawsuits, legislation, and regulations affecting animals.
Sign Up Now
Related
The Animal Legal Defense Fund has helped defend California's right to enact the strongest farmed animal protection law in the country

Animal Legal Defense Fund lawsuit leads to rule revocation excepting medium-sized factory farms from environmental review before receiving federal funding

Animal Legal Defense Fund and Phoenix partner to expose dangers of this emerging industry gaining traction with considerable investments from government entities