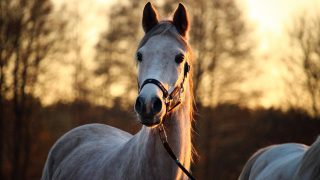 This week the Farm Bill was approved by the U.S. House and Senate. The bill includes important provisions that will protect animals, and most importantly, does not contain the King amendment.
Earlier this year, we asked you to contact your legislators in opposition to this dangerous amendment which jeopardized critical laws protecting animals, including those regulating factory farms and preventing the sale of dog and horse meat.
Rep. King's amendment would have stripped your state's ability to enact laws protecting animals as well as consumers from food produced in unsafe conditions.
You spoke out, and Congress listened!
In addition to not including the amendment, the bill outlaws the slaughter and trade of dogs and cats for human consumption, allows federal grants to assist domestic violence shelters in caring for companion animals, and includes companion animals in federal domestic violence protections. Further the bill expands the Animal Welfare Act prohibition on animal fighting to include U.S. territories.
This is a significant development considering cockfighting remains popular in some territories like Puerto Rico.
Thank you for standing up for animals!
Related
As the Animal Legal Defense Fund combats dogfighting by working with state officials to create stronger laws and more effective penalties for those who engage in this crime, we're also hard at work to ensure the best possible outcomes for dogfighting victims.

The Animal Legal Defense Fund, the nation's preeminent legal advocacy organization for animals, and Humane Rescue Alliance (HRA) are offering a $10,000 reward for information leading to the arrest and conviction of the person or people responsible for the abandonment and stabbing of a senior-aged dog named Ladybell on July 12, 2020.

Today the Animal Legal Defense Fund announced a settlement agreement with the West Virginia State Police, State Trooper Seth Cook, and Colonel C.R. "Jay" Smithers, in a lawsuit filed after Tiffanie Hupp intervened when Officer Cook drew his gun and aimed it at the family dog, Buddy.