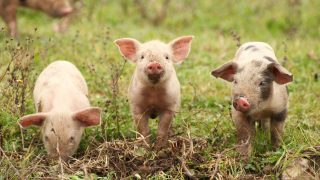 University of Washington – The Social Costs of Factory Farms
On February 12, 2007, the University of Washington Animal Legal Defense Fund Student Chapter, along with the UW Center for Human Rights and Justice and the Latin@ Law Student Association hosted a forum on the social costs of factory farms.
The event was made possible by grants from the Animal Legal Defense Fund and UW's Graduate and Professional Student Senate, and refreshments were catered by a favorite local vegan restaurant, Araya's Vegetarian Place.
Carter Dillard, Esq., of The Humane Society of the United States provided a comprehensive review of the animal welfare and environmental problems of factory farms, as well as an overview of recent and pending litigation on behalf of farm animals. Allen Cooper, Esq., of The Equal Justice Center described the arduousness of the labor in slaughterhouses and meatpacking facilities. He pointed out that, in addition to the generally poor working conditions that factory farm workers endure, agribusiness takes advantage of the immigration status and lack of literacy of its undocumented workers.
Mr. Dillard and Mr. Cooper addressed the common ground in the animal rights and poultry workers' rights movements. Both movements are concerned with alleviating suffering and the reversing the marginalization of populations based on arbitrary classifications. And measures that benefit animals, such as guaranteeing humane slaughter, tend to benefit workers as well.
The forum was part of the group's ongoing attempts to forge alliances with other social justice-oriented student groups. Taking a page from the radical labor movement's battle cry, "an injury to one is an injury to all," UW Animal Legal Defense Fund Student Chapter has been seeking opportunities both to spread its message about animal cruelty to others and to learn about the struggles that other groups are facing.
To that end, the Animal Legal Defense Fund Student Chapter has presented a seminar on the relationship between domestic violence and animal cruelty, cosponsored a talk on the Green Scare with UW's National Lawyers Guild chapter, and screened the documentary McLibel with the Center for Human Rights and Justice and GreenLaw.
Related
Fall 2018, the Animal Legal Defense Fund Pace Law Student Chapter partnered with a local companion animal rescue for its Fall Tailgate event.

These awards celebrate chapters that have shown incredible efforts in advancing animal law and advocating for animals through original projects and initiatives. Animal Legal Defense Fund Student Chapters are a vital part of the growing animal law movement.

The Lewis & Clark Animal Legal Defense Fund Student Chapter had a busy semester in spring 2018, holding three big events: its annual Animal Law Networking event, the Food Law Symposium, and its MeatOut BBQ.