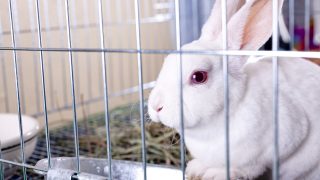 United States: Protect Animals from Cruel Cosmetics Testing
This action is for U.S. residents only.
Your voice is needed to protect animals from unnecessary cosmetics testing.
Federal lawmakers are considering a bill, the Humane Cosmetics Act (S. 3357/H.R. 6207), that would end the use of animals in cosmetics testing in the U.S. and ban the sale of cosmetics produced using animal testing.
Multiple states and dozens of countries have already enacted similar laws, and it's time for the U.S. to follow suit!
Please use the form below to send a message to your lawmakers, urging them to support and co-sponsor the Humane Cosmetics Act. Remember, personalizing your message can help it stand out.
Did you know an estimated 100 million animals are used in testing and research in the United States every year? Take a stand against animal testing by signing our cruelty-free pledge today.
Make the Pledge
Related
Damning evidence presented during proceedings are the foundation of the appeal

Actress Christian Serratos narrates the Animal Legal Defense Fund film advocating for an end to puppy mills

Animal Legal Defense Fund's lawsuit alleged Hormel misleads consumers with its Natural Choice® brand of lunch meats and bacon