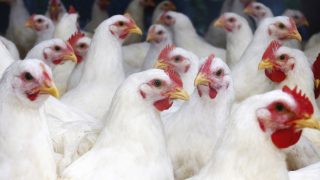 Transparency in Depopulation Act Introduced in the U.S House to Prohibit Funding Egregious Method of Mass Killing Farmed Animals
Bill bans federal funding for ventilation shutdown, which causes heatstroke and suffocation
Contact: media@aldf.org
WASHINGTON, D.C. — Today the Transparency in Depopulation Act (H.R. 9552), which would prohibit federal relief funds from being used for the mass killing of farmed animals by heatstroke and suffocation, a method known as "ventilation shutdown," was introduced in the U.S. House of Representatives by Congresswoman Pramila Jayapal (WA-07). The bill would impose a $10,000 civil penalty on facilities that violate the law, and it would require comprehensive reporting on all instances of mass killing of farmed animals and for the U.S. Department of Agriculture (USDA) to create a publicly available database to track mass killings, regularly referred to as "depopulation" by the animal agriculture industry.
Ventilation shutdown is executed by completely sealing up the buildings in which farmed animals are housed. All vents are closed and fans shut off to create an airtight environment while animals suffocate and are baked alive in rising temperatures over multiple hours. Instead of being rendered unconscious before they are killed — as is required when animals are slaughtered for food — animals who die via ventilation shutdown are able to feel the excruciating pain and distress caused by excessive temperature increase and lack of oxygen. In some circumstances, known as ventilation shutdown plus (VSD+), excess steam or gas is also pumped into the barns to speed up the process, though VSD+ can also take hours to kill animals. The Transparency in Depopulation Act would also prohibit federal funding from VSD+.
"Ventilation shutdown is one of the cruelest methods of killing farmed animals — leaving animals to languish in pain for multiple hours," says Animal Legal Defense Fund Executive Director Stephen Wells. "Taxpayers do not support animal cruelty, and they shouldn't be forced to pay for it."
"Farm animals deserve our compassion, and we cannot continue to let cruel and inhumane methods of killing continue to exist and be perpetuated without accountability," said Congresswoman Pramila Jayapal. "With this bill, we are standing up to greedy factory farms who continue to put profits over empathy and humanity, and ensure that animals are not needlessly suffering."
In August 2020, a coalition led by the Animal Legal Defense Fund filed an emergency petition with the USDA to prevent COVID-19 relief funds, resources, and any other forms of support from facilitating or compensating for the costs of ventilation shutdown or water-based foam depopulation and to withhold COVID-19 relief funds, resources, and any other forms of support from integrators, processors, and meatpackers that order or permit ventilation shutdown or water-based foam depopulation.
Join the Animal Legal Defense Fund's email list to stay up to date on lawsuits, legislation, and regulations affecting animals.
Sign Up Now
Related
The Animal Legal Defense Fund has helped defend California's right to enact the strongest farmed animal protection law in the country

Proposed rule would maintain an unnecessarily complicated and confusing process for children to get access to plant-based milk

Cows were killed in Madison, Brazos, and Robertson Counties, Texas.