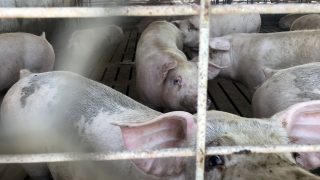 The Animal Agriculture Industry: Liability Proof?
Earlier this summer, the driver of a pig transport truck struck and killed longtime animal advocate Regan Russell. Russell was peacefully protesting during a Toronto Pig Save vigil outside Fearmans Pork slaughterhouse in Burlington, Ontario. A key figure in Canada's animal protection movement for more than 40 years, Russell frequently bore witness to the suffering of farmed animals on their way to slaughter, often giving water to desperately thirsty pigs.
The circumstances regarding her death are not fully known to the public, but top to bottom — from the giant multinational corporations that make billions off the suffering of humans and non-human animals alike to the factory farm supervisors who oversee egregious animal cruelty to the truck drivers who deliver animals to slaughter — the animal agriculture industry is rarely held accountable.
These corporations are so indifferent to anything but their bottom lines that even someone dying can be overlooked to keep the industry running on schedule.
No Justice After an Activist's Death
On July 20th, the Halton Regional Police Service charged the truck driver with Careless Driving Causing Death1. Careless Driving Death is not a criminal offense. It falls under a provincial regulatory statute dealing with traffic violations like failure to signal. Those convicted of the offense do not have a criminal record and may be fined between $2000 and $50,000 and face up to two years in prison.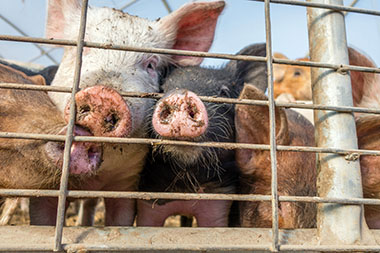 The local police have a long history of protecting the interests of the slaughterhouse owner while turning a blind eye to tangible evidence of animal cruelty occurring at his facility. The police have also failed to prosecute drivers and others who were intentionally violent toward activists in the past. Yet the Halton Police did charge Animal Save Movement founder Anita Krajnc with criminal mischief after she gave water to dehydrated pigs inside a truck headed to slaughter. Krajnc was ultimately acquitted after a highly publicized trial.
The Animal Save Movement swiftly condemned the charges against the truck driver who hit Russell as "feeble," and Russell's family expressed their disappointment as well. Whether Russell was hit intentionally is not clear. The video footage of the incident has not been released or reviewed by an independent party, and it's difficult to assess charging decisions without all the evidence. But these vigils had been occurring at the slaughterhouse for nine years, the driver was stopped for several minutes before striking Russell, and Russell was standing on public property in clear view of the driver. Further, reckless driving by animal transport drivers isn't new. Toronto Pig Save has urged the owner of Fearmans Pork to adopt better safety protocols after trucks nearly struck vigil attendees multiple times.
Ironically, Russell was protesting Ontario's new Ag-Gag law, Bill 156, when she died. Bill 156 intends to further insulate the industry from accountability. The law "gags" would-be whistleblowers and activists by punishing them for recording footage of what goes on in animal agriculture, ensuring the public never learns about the serious abuses occurring behind locked doors. It also takes aim at protestors like Russell who could now go to jail for giving water to pigs headed to slaughter. But even for companies well-trained in deceiving the public, it became difficult to minimize the impact of COVID-19 despite their best efforts.
Profits Over Pandemic
As the pandemic intensified across the United States, the animal agriculture industry made no attempt to protect its workers — or the larger communities they live in — from the virus. Even after it became obvious that the cramped conditions at factory farms and meatpacking plants were fueling the virus' spread, corporations instead pressured sick workers to show up or risk termination and failed to provide paid sick leave, modify protocols to allow for social distancing, or provide personal protective equipment.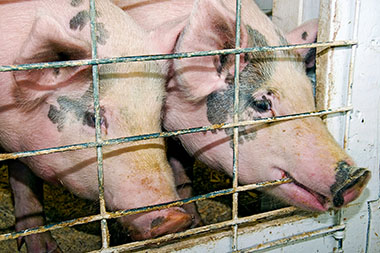 County health agencies quickly identified factory farms, slaughterhouses, and meatpacking plants as virus hotspots. But instead of cooperating with these agencies, companies like Tyson Foods instead shut off the flow of information to local governments, failing to provide test results or employee contact information.2 By the end of July, more than 46,000 animal agriculture workers tested posted for COVID-19 and at least 188 had died.3 The Centers for Disease Control and Prevention (CDC) determined 9% of workers at meat and chicken processing plants across 14 states have been diagnosed with the virus as of July.4
Unsurprisingly, the industry is now lobbying legislators to evade legal accountability for these deaths. Smithfield Foods, the largest pig producer in the world, and Mountaire Farms, a mega chicken producer, and the American Farm Bureau Foundation are just a few of the companies and industry groups urging Congress to include liability waivers — creating immunity from civil claims regarding coronavirus — in the next COVID-19 stimulus bill.5 And they're not just sending letters, these companies are making substantial donations to political candidates and hiring lobbyists to push liability waiver laws.
No One is Above the Law
Whether it's a single activist's death or tens of thousands of sick workers, the animal agriculture industry behaves as though it's above the law. While the powerful aren't holding them accountable, others are. The Animal Legal Defense Fund is fighting back through lawsuits aimed at exposing its cruelty towards animals and nonhuman animals alike. We have successfully challenged Ag-Gag laws, similar to the one recently passed in Ontario, in Kansas, Idaho, Iowa, North Carolina, and Utah. Litigation challenging Arkansas' Ag-Gag law is ongoing.
Though Russell can no longer protest, her legacy is kept alive by the animal advocates who continue to hold vigil. We stand with them and peaceful protestors of all kinds. The animal agriculture industry isn't actually liability-proof, it just thinks it is. Together we are powerful too, and we are shaping a different future where life is more valuable than cheap meat.
---
References
Related
Animal Legal Defense Fund filed a false claims lawsuit against Holden Farms. Allegations include violating federal and state laws banning "garbage feeding" and state animal cruelty law.

The U.S. Court of Appeals for the Fourth Circuit handed an important win to plaintiffs in a lawsuit challenging North Carolina's Ag-Gag law, ruling that undercover investigations and whistleblowing are considered newsgathering activities protected by the First Amendment.

Edie Falco narrates the Animal Legal Defense Fund film demanding transparency in factory farming
Join the Animal Legal Defense Fund's email list to stay up to date on lawsuits, legislation, and regulations affecting animals.
Sign Up Now