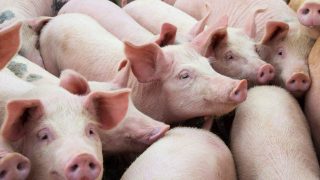 Second Challenge to California Law Banning Cruelest Farming Practices is Dismissed
Animal Legal Defense Fund successfully helps defend Prevention of Cruelty to Farm Animals Act against 'copycat' lawsuit
Today the U.S. District Court for the Southern District of California dismissed a lawsuit brought by the National Pork Producers Council (NPPC) and the American Farm Bureau Federation (AFMF), which would have struck down portions of California's landmark farmed animal protection law. This is a major victory for farmed animals.
The Animal Legal Defense Fund and a coalition of animal protection organizations intervened in the lawsuit, joining the state defendants in successfully defending the constitutionality of the Prevention of Cruelty to Farm Animals Act, also known as Proposition 12 or Prop 12, and preserving California's right to ban cruelly produced animal products.
This is a "copycat" lawsuit challenging the California law — and the second such lawsuit in which this coalition has intervened. The first lawsuit was filed by the North American Meat Institute (NAMI) in October 2019, in the U.S. District Court for the Central District of California. After that court denied NAMI's motion to preliminarily halt enforcement of the Prevention of Cruelty to Farm Animals Act, the pork industry groups filed the second lawsuit, bringing nearly identical claims in a new venue.
In 2018, Californians voted to strengthen the Prevention of Cruelty to Farm Animals Act — taking a major step toward eliminating from the state market some of animal agriculture's cruelest practices. The law builds upon previous farm animal measures in the state to prohibit the in-state production of certain pork, veal, and egg products from cruelly confined animals. Prop 12 sets minimum space allowances for those animals and also prohibits the sale of products that do not meet this standard — meaning that any producer wanting to sell to California consumers will have to meet Prop 12's requirements. The initiative passed easily with 63% of the vote.
In its lawsuit, the NPPC and AFMF contended the California law violates the U.S. Constitution's Commerce Clause, attacking the state's well-founded prerogative to protect animals with laws such as this.
Despite today's victory, this battle is not over. The Animal Legal Defense Fund stands ready to defend this victory if the NPPC and AFMF appeal or amend their complaint, to continue litigating the first challenge, and to defend Prop 12 against other such meritless challenges.
Farmed animals are among the most abused animals, routinely subject to cruelty but with few legal protections. Animals are treated more as commodities than living, feeling beings. When standard industry practices — which affect billions of animals — include confining animals in cramped crates and cages for the duration of their lives with little room to move, laws like Prop 12 make significant progress.
Join the Animal Legal Defense Fund's email list to stay up to date on lawsuits, legislation, and regulations affecting animals.
Sign Up Now
Related
Animal Legal Defense Fund filed a false claims lawsuit against Holden Farms. Allegations include violating federal and state laws banning "garbage feeding" and state animal cruelty law.

Cows were killed in Madison, Brazos, and Robertson Counties, Texas.

The U.S. Court of Appeals for the Fourth Circuit handed an important win to plaintiffs in a lawsuit challenging North Carolina's Ag-Gag law, ruling that undercover investigations and whistleblowing are considered newsgathering activities protected by the First Amendment.