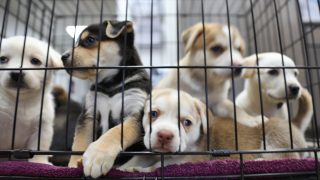 Oregon Governor Signs Animal Protection Bills into Law
The Animal Legal Defense Fund has directly advocated for and supported the two bills in Oregon that will help protect animals
In July and August 2023, Oregon Gov. Tina Kotek signed two bills into law with support from the Animal Legal Defense Fund that will help protect the well-being of animals in the state. The Animal Legal Defense Fund has been active in advocating for legislation in Oregon that will give animals better protections through the legal system and help mitigate the impact of puppy mills that cause further suffering. The laws will go into effect on Sept. 24, 2023.
The governor signed H.B. 2915 into law banning the retail sale of puppies and kittens sourced from commercial breeders at new stores as of September 2023 and phasing out the sale in existing stores over the next five years. In 2017, California made history when it became the first U.S. state to prohibit pet stores from selling commercially bred animals. Maryland followed suit with a similar law in 2018 and Oregon will be the seventh state to do so. Hundreds of cities and counties, including Cook County (Chicago), Boston, and Philadelphia, have also passed retail pet sale bans.
The governor also signed H.B. 3213, which prohibits manufacturers from selling cosmetics developed through the use of animal testing in Oregon. Similar legislation has passed in numerous U.S. states — including California, Hawaii, Illinois, Louisiana, Maine, Maryland, Nevada, New Jersey, New York, and Virginia — as well as dozens of countries around the world.
The Animal Legal Defense Fund ranked Oregon as the third-best state for animal protection laws in its annual U.S. State Animal Protection Laws Ranking Report for 2022.
Join the Animal Legal Defense Fund's email list to stay up to date on lawsuits, legislation, and regulations affecting animals.
Sign Up Now
Related
The gift of more than $1 million will fund the program over the next four years

This action is for U.S. residents only.

The victory follows the passage of a factory farming law and efforts to curtail the construction of new mega dairies in the state