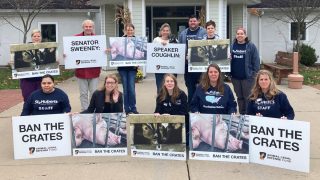 Take Action at the New Jersey State House!
Thursday, May 25 from 10 a.m. to 1 p.m.
You're invited to join us at the Trenton New Jersey State House on Thursday, May 25, to help engage legislators on an important bill.
We will be showing strong support for A.1970/S.1298, which would ban the use of gestation crates and veal crates is currently being considered in the state legislature.
During this event:
advocates will line the corridor inside the New Jersey State House, holding signs depicting the cruel confinement of pigs and calves, making a silent but powerful statement.
coalition leaders will engage passing legislators who pause to take in the visibility event.
shirts and signs will be provided.
prepare to be inspired and feel rewarded that you helped progress this critical animal protection legislation.
RSVP below to join us at the NJ State House!
If you aren't able to attend the event in person, you can still help! Please send a message of support to your legislators.
Join the Animal Legal Defense Fund's email list to stay up to date on lawsuits, legislation, and regulations affecting animals.
Sign Up Now
Related
Animal Legal Defense Fund filed a false claims lawsuit against Holden Farms. Allegations include violating federal and state laws banning "garbage feeding" and state animal cruelty law.

Cows were killed in Madison, Brazos, and Robertson Counties, Texas.

The U.S. Court of Appeals for the Fourth Circuit handed an important win to plaintiffs in a lawsuit challenging North Carolina's Ag-Gag law, ruling that undercover investigations and whistleblowing are considered newsgathering activities protected by the First Amendment.