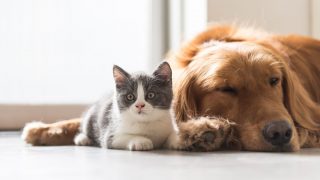 New York: Ask Your Legislators to Protect Animal Cruelty Victims!
This action is for New York residents only.
Animal cruelty victims deserve justice in the courtroom. S.3525/A.5315, introduced by Senator Jamaal Bailey and Assembly Member Linda Rosenthal and co-sponsored by Senator Alessandra Biaggi, Senator Toby Ann Stavisky, and Assembly Member Fred Thiele, would create a Courtroom Animal Advocate Program (CAAP) in New York — ensuring more animal victims have a voice in legal proceedings.
S.3525/A.5315 provides for an advocate in criminal cases concerning the welfare or care of an animal. Courtroom Animal Advocate Programs allow advocates — supervised law students or volunteer lawyers — to advocate for animal victims in criminal cruelty cases.
Courtroom Animal Advocate Programs help the legal system reach fair outcomes that benefit animals. With the passage of S.3525/A.5315, New York will rise to the forefront of states working to ensure that animals who suffer criminal neglect and abuse are able to have an advocate speak on their behalf in court.
Please email your state legislators urging them to support and co-sponsor this important bill.
Related
The Los Angeles Superior Court has granted a preliminary injunction that halts the Kenneys, unscrupulous internet puppy sellers, from advertising and selling puppies until the lawsuit is decided on the merits.

Animal Legal Defense Fund challenges the renewed license for the owner of Wildlife on Wheels after evidence has revealed ongoing violations for more than a decade

A Courtroom Animal Advocate Program (CAAP) bill, S.2868/A.4533, which would allow law students and volunteer lawyers to advocate for animal victims in cruelty criminal cases, unanimously passed the New Jersey Senate. The bill is sponsored by Senator Nicholas Scutari and Assemblyman Raj Mukherji and endorsed by the Animal Legal Defense Fund.