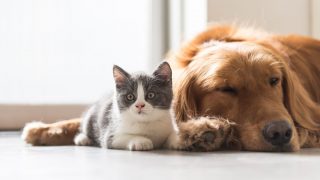 New York: Ask Your Legislators to Protect Animal Cruelty Victims!
This action is for New York residents only.
The New York Courtroom Animal Advocate Program bill would provide for an advocate in criminal cases concerning the welfare or care of an animal. These court-appointed advocates —supervised law students or volunteer lawyers — may monitor the case, attend hearings, consult with individuals with information related to the well-being of the animal, review relevant records, and present information or recommendations to the court related to the animal's best interest.
The time is now to urge your state representatives to support A.111/S.1659, New York's Courtroom Animal Advocate Program bill.
Please email your state legislators urging them to support and co-sponsor this important bill.
Related
Alternative sentencing program in Fulton County, Georgia pairs shelter dogs with criminal defendants to offer both training and a second chance

Actress Christian Serratos narrates the Animal Legal Defense Fund film advocating for an end to puppy mills

Predatory financing law bans loans that often trap borrowers with high interest rates