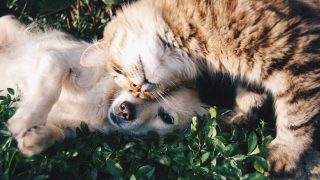 New Jersey: Ask Your Legislators to Protect Animal Cruelty Victims!
This action is for New Jersey residents only.
Animal cruelty victims deserve justice in the courtroom. A state bill, A.4533, would create a Courtroom Animal Advocate Program (CAAP) in New Jersey, enabling volunteer attorneys and supervised law students to advocate on behalf of animal victims in criminal cruelty and neglect cases.
Animals can't advocate for their own needs in court, but CAAP laws enable trained advocates to help ensure fair outcomes that benefit animal victims.
This important legislation was introduced by Assemblyman Mukherji and is sponsored by Assemblymembers Quijano, Benson, Verrelli, Stanfield, Auth, Johnson, Chiaravalloti, and Reynolds-Jackson. It has already passed out of the state Senate, with bipartisan support, where it was introduced by Sen. Scutari and sponsored by Sens. Addiego and Singleton.
Please use the form below to urge your lawmakers to support and co-sponsor this important bill — or to thank them if they're already a sponsor. And remember, personalizing your message can help it stand out!
Related
Class-action lawsuit alleges thousands in California purchased dogs under the false belief they were rescue animals

The Los Angeles Superior Court has granted a preliminary injunction that halts the Kenneys, unscrupulous internet puppy sellers, from advertising and selling puppies until the lawsuit is decided on the merits.

Animal Legal Defense Fund challenges the renewed license for the owner of Wildlife on Wheels after evidence has revealed ongoing violations for more than a decade