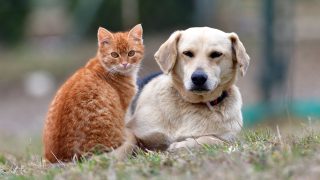 New Jersey: Ask Your Legislators to Protect Animal Cruelty Victims!
This action is for New Jersey residents only.
Animal cruelty victims deserve justice in the courtroom. A.4533/S.2868, introduced by Assemblyman Raj Mukherj and Senator Nicholas Scutari, would create a Courtroom Animal Advocate Program (CAAP) in New Jersey — ensuring more animal victims have a voice in legal proceedings.
A.4533/S.2868 provides for an advocate in criminal cases concerning the welfare or care of an animal. Courtroom Animal Advocate Programs allow advocates — supervised law students or volunteer lawyers — to advocate for animal victims in criminal cruelty cases.
Courtroom Animal Advocate Programs help the legal system reach fair outcomes that benefit animals. With the passage of A.4533/S.2868, New Jersey will rise to the forefront of states working to ensure that animals who suffer criminal neglect and abuse are able to have an advocate speak on their behalf in court.
Please call your state legislators, then send follow-up emails, urging them to support and co-sponsor this important bill.
Call your state legislators. If you're able to make a phone call, please do so as phone calls have a greater impact than emails. You can use this message: "As your constituent, I urge you to support and co-sponsor A.4533/S.2868, the Courtroom Animal Advocate Program."
After calling, please send a follow-up email to your legislators using the form below. Personalizing your message will help it stand out.
Related
As the Animal Legal Defense Fund combats dogfighting by working with state officials to create stronger laws and more effective penalties for those who engage in this crime, we're also hard at work to ensure the best possible outcomes for dogfighting victims.

The Animal Legal Defense Fund, the nation's preeminent legal advocacy organization for animals, and Humane Rescue Alliance (HRA) are offering a $10,000 reward for information leading to the arrest and conviction of the person or people responsible for the abandonment and stabbing of a senior-aged dog named Ladybell on July 12, 2020.

Today the Animal Legal Defense Fund announced a settlement agreement with the West Virginia State Police, State Trooper Seth Cook, and Colonel C.R. "Jay" Smithers, in a lawsuit filed after Tiffanie Hupp intervened when Officer Cook drew his gun and aimed it at the family dog, Buddy.