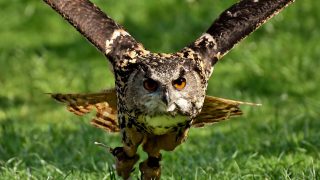 Monica Frois, Erin Pelleteri, and Brandy Sheely
The Animal Legal Defense Fund would never be able to use the law to advance the interests of animals without the support of legal professionals nationwide. In this continuing series of spotlights, ALDF's Animal Law Program salutes attorneys Monica Frois, Erin Pelleteri, and Brandy Sheely.
The laws intended to protect animals in this country are only as strong as the people willing to defend them. Thankfully for a lonely tiger named Tony, there are legal professionals like Monica Frois, Erin Pelleteri, and Brandy Sheely. Attorneys with New Orleans-based Baker, Donelson, Bearman, Caldwell & Berkowitz, PC, this pro bono team has been providing tireless assistance to the Animal Legal Defense Fund on behalf of Tony, an 11-year-old Siberian-Bengal tiger, who has been on exhibit as a roadside attraction at a Grosse Tete, La., truck stop since 2000.
The truck stop's owner, Michael Sandlin, has continued to refuse to relinquish Tony, even though the big cat lives in a chain-link enclosure without trees, a large water feature, complex vegetation, or any of the other enrichment that would simulate a natural environment and allow him to perform innate behaviors. Confined to a cage in the parking lot, Tony — who in nature would be roaming at least several square miles of territory — paces the floor, a sign that he is experiencing extreme stress. And because Sandlin sent three other tigers away after the USDA placed a limit on how many he could exhibit, Tony has been living alone since 2003.
In 2011, Monica, Erin, and Brandy, together with the Animal Legal Defense Fund, requested a permanent injunction against the Louisiana Department of Wildlife and Fisheries to revoke the annual permit that allows Sandlin to display Tony. On November 2, a Louisiana district judge granted the injunction, and although there is still more to do, this victory has helped pave the way for a future in which Tony can live in a sanctuary better suited to his needs.
"We're relieved that Tony will be in an environment that is more humane and far more suitable than a cage at a truck stop," says Monica. "We knew the law was on our side and are proud that we were able to assist the ALDF in ensuring that Tony's cause was heard."
Monica concentrates her practice on health care matters as well as complex litigation, insurance coverage, legal ethics, and professional responsibility litigation. She was appointed by the president of the Louisiana State Bar Association to serve on the Medical/Legal Interprofessional Committee of the Louisiana State Medical Society and Louisiana State Bar Association, a role that combined her experience representing the health care and legal industries. Monica graduated from Tulane University Law School in 1990.
Erin's litigation experience includes defending insurers in matters related to serious personal injury, medical malpractice property claims, commercial general liability and premises liability. A 2006 graduate of Loyola University School of Law, she has also helped to defend nationwide collective actions brought under the Fair Labor Standards Act and related class actions across the country. Her tort experience includes defending against transportation-related claims in the railroad industry, product liability claims against equipment manufacturers and medical liability claims against a durable medical equipment provider.
Brandy earned her J.D. from Tulane University Law School, graduating magna cum laude in 2004. Like Monica, she concentrates her practice primarily in health care litigation, specifically in representing health care providers in medical malpractice and contract dispute claims. Brandy's practice also includes business, bankruptcy, and commercial litigation, including the representation of secured creditors in connection with the enforcement and/or protection of their security interests in state, federal, and bankruptcy courts.
We at the Animal Legal Defense Fund are so grateful for the many hours of hard work these attorneys have devoted to assisting us in our legal quest to free Tony.
For more information about Baker, Donelson, Bearman, Caldwell & Berkowitz, PC, please visit www.bakerdonelson.com.
Related
The bill helps end the rampant abuse of tigers and other big cats in captivity by banning private possession

Graphic images of wound are posted on Tik-Tok by an employee of Gator Park — a facility owned and operated by Jason Clay.

The lawsuit alleges federally endangered and threatened animals such as the tigers, lions, and ring-tailed lemurs are receiving inadequate care at Tiger Creek