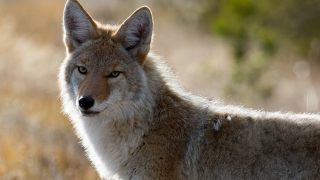 Mendocino County Renews Controversial Contract with Wildlife-Killing Program
County Will Pay Wildlife Services to Kill Millions of Wild Animals Each Year
Contact: media@aldf.org
Mendocino, CA — Yesterday, despite nearly a year of pressure from a coalition of public interest groups, Mendocino County officials ignored opportunities to find non-lethal—and cheaper—methods of wildlife management instead renewed its contract with Wildlife Services.
The previous $142,356 contract authorized Wildlife Services to kill hundreds of coyotes, as well as bears, bobcats, foxes and other animals in the county every year, without assessing the ecological damage or considering alternatives. To renew this contract, County officials approved two resolutions.
The first allows for the employment of a trapper by Wildlife Services by creating an exemption from environmental review as required by the California Environmental Quality Act. The second gives the county agricultural commissioner authority to fund the federal killing program through July 2016.
In July of 2014, a coalition of public interest groups began putting pressure on Mendocino County officials to suspend renewal of the county's 2016 contract with the U.S. Department of Agriculture's (USDA) wildlife-killing program known as Wildlife Services.
The county largely ignored the coalition's attempt to resolve their complaints out of court, so in November 2014, the coalition sued Mendocino County for violating CEQA. In the settlement, the county agreed to consider nonlethal predator control methods and comply with CEQA.
Last night, after a hearing on the controversial program, Mendocino County officials have decided to renew the contract with Wildlife Services, thus spending taxpayer dollars on harmful, ineffective methods of wildlife control. Despite the success of nonlethal control methods used by other counties, Mendocino officials will pay for services from an agency with a long track record of problematic treatment of animals.
One Wildlife Services employee was charged with animal cruelty for intentionally maiming his neighbor's dog with a steel-jaw leghold trap. Another employee posted pictures on social media of his hunting dogs mauling coyotes caught in traps. More than 120,000 people signed an online petition demanding this employee's termination and an investigation into reports of animal cruelty by other Wildlife Services employees. The program is currently under investigation by the USDA's Office of the Inspector General.
The coalition includes Animal Legal Defense Fund, Animal Welfare Institute, Center for Biological Diversity, Natural Resources Defense Council, and Project Coyote.
Related
Proposed rule would maintain an unnecessarily complicated and confusing process for children to get access to plant-based milk

Recommendations aim to decrease risk of zoonotic disease spread, animal escapes and attacks, and psychological and physical harm to the animals

Animal Legal Defense Fund petition for rulemaking spurs reporting improvements: Forms will be revised to ensure AWA licensees maintain complete records of all animal deaths.