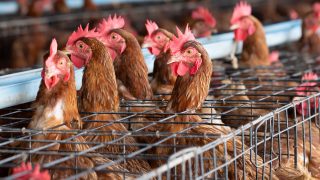 Massachusetts: Urge Your State Legislators to Protect the Welfare of Egg-Laying Hens
This action is for Massachusetts residents only.
Egg-laying hens are among the most abused animals in the country yet have few legal protections. Urge your state representative to support An Act to upgrade hen welfare and establish uniform cage-free standards (S.2481), which was filed by Representative Dan Cahill and Senator Jason Lewis and passed the Senate on June 24, 2021. This legislation would upgrade conditions for egg-laying hens by mandating that they be able to engage in certain vital natural behaviors such as perching, nesting in boxes, and dust bathing and expand the application of the cage-free standard and mandated enrichments to even more hens whose eggs are sold in the Commonwealth.
In 2016, Massachusetts voters overwhelmingly passed what at the time was the strongest law for farmed animals in history, An Act to Prevent Cruelty to Farm Animals, known as Question 3, which will take effect in 2022. Since it was passed, leading retailers, producers, and other states mandated even stronger standards in the shift to cage-free conditions for hens. This legislation would upgrade the 2016 law, bringing it in line with the new — stronger —standard and expanding its application to egg products typically used in cafeterias and fast food chains. This upgrade language has the support of both the leading Question 3 proponents and opponents of the 2016 campaign — including leading animal protection organizations, egg industry trade groups, and producers — as well as the Attorney General, who is responsible for promulgating related regulations and enforcement.
Email your state representative and urge them to support this legislation to upgrade the welfare of egg-laying hens.
Join the Animal Legal Defense Fund's email list to stay up to date on lawsuits, legislation, and regulations affecting animals.
Sign Up Now
Related
Edie Falco narrates the Animal Legal Defense Fund film demanding transparency in factory farming

D.C. Court of Appeals rules Animal Legal Defense Fund can pursue its claims

Animal Legal Defense Fund-led coalition wins major victory for animal protection, food and worker safety, and the First Amendment