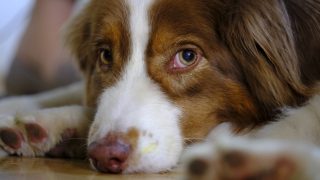 Massachusetts: Keep Convicted Abusers Away From Animals
THIS ACTION IS FOR MASSACHUSETTS RESIDENTS ONLY.
Keep animals away from convicted abusers by asking your legislators to support H.3772, An Act Relative to Protecting Animals From Abusers. This bill would prohibit people convicted of animal cruelty (including torture, mutilation, and dogfighting) from possessing, adopting, or fostering animals for at least five years after their release from custody.
Please call your state representative and state senator, then send follow-up emails, urging them to support this critical animal cruelty bill.
Possession bans are one of the most effective ways to ensure a person convicted of animal cruelty does not reoffend. These laws restrict an abuser's access to animals, drastically limiting the pool of potential victims.
Help prevent animals from becoming future victims of cruelty – contact your state legislators today in support of H.3772 today.
Finally, please join Animal Legal Defense Fund Senior Legislative Affairs Manager Stephanie Harris at the public hearing for H.3772 on Tuesday, September 24th at 1:00 PM in Room A-1 of the Massachusetts State House in Boston. Contact Stephanie at sharris@aldf.org for more information.
THIS ACTION IS FOR MASSACHUSETTS RESIDENTS ONLY.
Join the Animal Legal Defense Fund's email list to stay up to date on lawsuits, legislation, and regulations affecting animals.
Sign Up Now
Related
Ask your state legislators to provide an opportunity for dogs and cats used in research to find loving homes once their time in a research laboratory has come to an end by supporting An Act Protecting Research Animals.

Animal Legal Defense Fund and CPM seek to hold Kenney family accountable for defrauding customers and harming dogs in violation of California law

Animal Legal Defense Fund and CAARE continue work to protect animals used in research