Maine Ranked Best State for Animal Protection Laws
2020 Rankings Report Released: Animal Protection Laws by State
Contact: media@aldf.org
SAN FRANCISCO, CA — For first time, Maine ranks as the top state for animal protection laws according to the annual U.S. Animal Protection Laws Rankings Report published by the Animal Legal Defense Fund, the nation's preeminent legal advocacy organization for animals.
The longest-running and most authoritative report of its kind, the 15th annual year-end Rankings Report (2020) assesses the relative strengths and weaknesses of each U.S. state's and territory's animal protection laws and ranks them accordingly.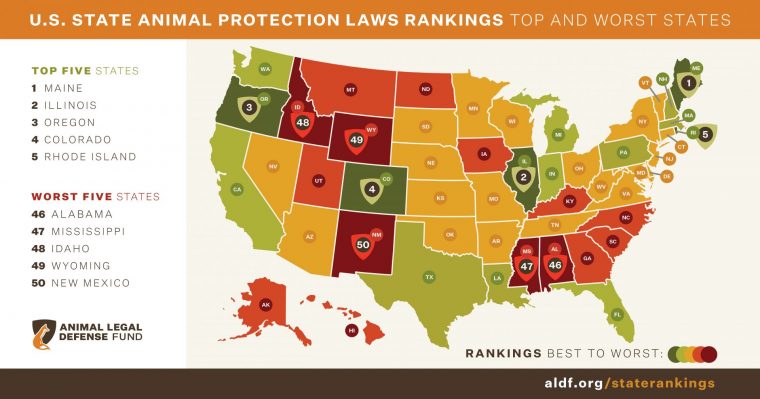 Maine is followed by Illinois (2), Oregon (3), Colorado (4), and Rhode Island (5). This year New Mexico sunk to 50th place, followed by Wyoming (49), Idaho (48), Mississippi (47), and Alabama (46) rounding out states with the weakest animal protection laws.
Maine earned its top spot in the Rankings because state lawmakers have led the way in passing important animal protection measures. For example, care requirements such as food, water and shelter are well-defined under state law. Courts may also require convicted offenders to undergo mental health evaluations or treatment, and protection orders may include animals.
Even in Maine there is room for improvement, as post-conviction forfeiture of animals is not mandatory for all animal cruelty crimes, and neither is requiring convicted offenders to pay restitution for the cost of caring for seized animals.
A continuing trend over the past several years is laws regarding possession bans, a sentencing measure in which courts prohibit convicted offenders from owning or residing in the same household as an animal. This year, four states created or strengthened their possession ban statutes. A new trend in 2020 was stronger laws relating to necessary shelter for animals. This year, four states amended their laws to provide greater detail for what kind of shelter guardians must provide to protect their animals from the elements and inclement weather.
"Even in the tumultuous year that was 2020, we saw enormous strides being made to better protect animals, including several jurisdictions completely overhauling their animal cruelty laws," says Animal Legal Defense Fund Executive Director Stephen Wells. "The Animal Legal Defense Fund is proud that our comprehensive annual Rankings Report serve as a valuable tool for legislators, who use them to thoroughly examine and strengthen their states' animal protection laws."
The rankings are based on a comprehensive review of each jurisdiction's animal protection laws, including over 3,000 pages of statutes. This is the longest-running and most authoritative report of its kind and tracks which states are taking animal protection seriously.
The full report, including details about each state, is available at aldf.org/staterankings.
Related
The California Court of Appeals affirmed a ruling by a lower court recognizing Society for the Prevention of Animal Cruelty (SPCA) organizations' ability to file lawsuits against entities that violate existing animal protection laws.

Reward for information leading to the arrest and conviction of the person or people responsible for illegally shooting and killing a red wolf in Tyrrell County, North Carolina.

Animal Legal Defense Fund files motion for summary judgement with damning evidence against the university