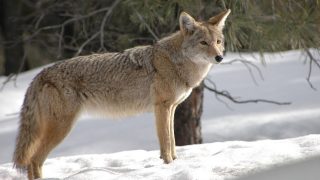 Lawsuit Aims to Put an End to Coyote Killing Contest
Complaint Alleges the Contest is a Public Nuisance
Contact: media@aldf.org
Ellis, KS – Today the Animal Legal Defense Fund collaborated with a pro bono legal team to file a complaint on behalf of Western Plains Animal Refuge (WPAR) against the hosts of the Smoky Hill Calling Contest—the goal of which is to kill as many coyotes as possible. The complaint alleges nuisance violations based on the fact that the contest amounts to commercial gambling, causes WPAR to suffer special damages and severely disrupts the local ecosystem.
The Smoky Hill Calling Contest, based in WaKeeney, Kansas, was first held in January 2016, but the sponsors are already planning a future event. The contest features an entry fee of $80, and encourages people of all ages, including children, to enter. While the proceeds were designated to support local youth shooting sports, that is not a charitable organization. The contestant who kills the most coyotes wins $500 and a rifle.
Western Plains Animal Refuge suffers substantial economic damages as a result of the contest. By incentivizing anyone with an entry fee to shoot as many coyotes as possible, some coyotes are injured but not killed. WPAR is the local agency that rehabilitates the animals for release back into the wild, and they directly incur the associated costs.
The contest also causes a serious disruption in the ecosystem leading to an unbalanced and unhealthy natural system. When coyote populations are disrupted by lethal means, younger pups have no adult male or female to help them acquire food. This in turn causes many pups to prey on sheep and livestock. The disruption can also effect on smaller predator populations. For example, when coyotes are absent or even greatly reduced in number in a natural area, such as WaKeeney, the relationships between species below them in the ecosystem are altered, putting small species at risk.
"Disrupting the ecosystem by trying to wipe out coyotes is not a game," says Stephen Wells, executive director of the Animal Legal Defense Fund. "This contest is hurting the environment and the people who work so hard to keep WaKeeney's ecosystem healthy."
Related
For years, captive wild animals have suffered in the care of traveling zoo operator Robert Sawmiller. On December 9, 2020 two wolves and a Labrador named Fancy were rescued and transported to sanctuary through legal action brought by the Animal Legal Defense Fund.

The Animal Legal Defense Fund — with the assistance of local counsel named Taylor Waters, U.S. Marshals, and the Auglaize County Sheriffs Office — executed a court order, seizing three animals from infamous wild and domestic animal breeder and broker Robert Sawmiller near Wapakoneta, Ohio.

The Animal Legal Defense Fund, the nation's preeminent legal advocacy organization for animals, is offering a $5,000 reward for information leading to the arrest and conviction of the person or people responsible for illegally trapping a coyote in Essex County, Massachusetts.