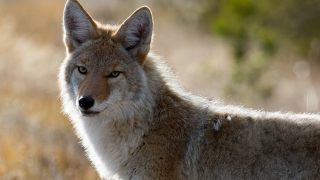 Judge Rules Factions of "Wyoming Best of the Best" Coyote-Killing Contest Constitute Illegal Gambling
Defendant Buddha Bob's Bar banned from hosting future gambling activities
Contact: media@aldf.org
Rock Springs, NY – A Wyoming judge issued a partial ruling in favor of the Animal Legal Defense Fund in its lawsuit against the organizers of "Wyoming's Best of the Best"—a coyote-killing contests held throughout the state. In January 2017, the Animal Legal Defense Fund sued on behalf of a Wyoming resident to stop the hunting event that occurs annually in her county. Each year, hunters try to kill as many coyotes as possible in a single day. Non-hunters have also been invited to participate by betting on the winners of this killing melee. The lawsuit argued that the event, and associated prize-winning opportunities, are forms of illegal gambling that violate the state nuisance statute.
Immediately after oral arguments were heard in the case, the judge ruled that at least some of the activities associated with the event—a Calcutta auction, a raffle, and a keno—constitute illegal gambling. The judge will issue a formal injunction permanently banning future gambling activities at Buddha Bob's Bar.
For now the judge has reserved ruling on the Animal Legal Defense Fund's other claims—that the two prize-winning categories associated with the killing of coyotes are themselves forms of illegal gambling. The judge will issue a written ruling on the remaining two claims in the coming months, after considering all the evidence. Nevertheless, the partial ruling is itself a victory, because it removes three sources of revenue the organizers have relied on to fund the events.
Coyotes are an important part of the Wyoming environment. They are complex, highly intelligent and considered to be a keystone species, meaning their presence or absence has a significant impact on the surrounding biological community. Coyotes are also known as 'America's Song Dog' due to their extraordinary vocalizations.
"Not only are such indiscriminate killing contests an intolerable blood sport, they destabilize the larger ecosystem," says Animal Legal Defense Fund Executive Director Stephen Wells.
Related
For years, captive wild animals have suffered in the care of traveling zoo operator Robert Sawmiller. On December 9, 2020 two wolves and a Labrador named Fancy were rescued and transported to sanctuary through legal action brought by the Animal Legal Defense Fund.

The Animal Legal Defense Fund — with the assistance of local counsel named Taylor Waters, U.S. Marshals, and the Auglaize County Sheriffs Office — executed a court order, seizing three animals from infamous wild and domestic animal breeder and broker Robert Sawmiller near Wapakoneta, Ohio.

The Animal Legal Defense Fund, the nation's preeminent legal advocacy organization for animals, is offering a $5,000 reward for information leading to the arrest and conviction of the person or people responsible for illegally trapping a coyote in Essex County, Massachusetts.