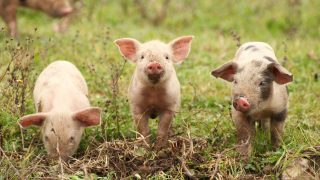 Student Animal Legal Defense Fund (SALDF) chapters provide education and support for law students interested in animal law, while also offering opportunities to do outreach supporting animal protection on campus. The SALDF chapter at the John Marshall Law School (JMLS) has been an official chapter since March 2004, and in recent years they have achieved so much at their school and in their community.
Just in the 2014-15 school year alone, the JMLS chapter put on more than a dozen outreach events. As their faculty advisor, Susann (Sunny) MacLachlan explained, the current officers are "the finest group of SALDF officers I could ever hope for—and they've brought new life to the organization." The SALDF students benefited from MacLachlan's guidance as well. JMLS SALDF President Sarah Hanneken says, "Her passion for animal law and the assistance and support she has provided our chapter over all these years is remarkable."
Along with MacLachlan and Hanneken, another key member of the SALDF chapter's team is Chelsea McFadden. She served as the Vice President during the 2014-15 school year and was also one of the first group of participants in the SALDF Regional Representative Internship Program. McFadden played an important role in many of the events the chapter organized and helped with other aspects of running the chapter as part of her internship.
Particularly noteworthy this past year was the Chicago Animal Law Symposium, held on April 4, 2015. The symposium was attended by more than seventy law students and animal advocates. During the event, top experts discussed hot button issues like Ag-Gag laws, the Animal Enterprise Terrorism Act, contemporary issues in Illinois animal law, the convergence of food safety law and animal protection, and the problem of police shootings of companion animals. This student-organized event took place at the Chicago-Kent College of Law and was generously sponsored by the Animal Legal Defense Fund and made by possible by the collaboration of SALDF Chapters at Chicago-Kent College of Law, The John Marshall Law School, DePaul University College of Law, Northwestern School of Law, and the University of Chicago Law School.
The JMLS chapter also organized a "Careers in Animal Law" panel, featuring prominent animal attorneys from around the Chicago area, as well as a wide variety of educational events. These included: screening and discussion of the documentary films The Ghosts in Our Machine and Cowspiracy: The Sustainability Secret; speakers from other animal advocacy groups, including Mikael Nielsen (Mercy For Animals) and Marcia Kramer (National Anti-Vivisection Society); and fundraisers to benefit animals, such as the Donuts for Dogs fundraiser to purchase protective gear for Chicago police dogs and the annual "Pro Bone-O" fundraiser.
The JMLS chapter's outstanding work has received positive attention of their academic community. They were recently awarded the John Marshall Student Organization Distinguished Service Award for the Spring 2015 semester, in recognition of their powerful impact as a student organization. In addition, Sarah Hanneken was recently selected to receive an ALDF Advancement of Animal Law Scholarship for her dedicated leadership with SALDF and commitment to ALDF's mission.
All of this hard work will surely pay off by increasing the number of law students interested in animal law and greater awareness of how everyone, lawyers and grassroots advocates alike, can make a difference for animals. You can learn more about them on their chapter Facebook page at www.facebook.com/SALDF.JMLS, or e-mail them at JMLSAnimalLaw@gmail.com to join their mailing list.
Thank you to the JMLS chapter for your dedication to animal protection!
Related
The California Court of Appeals affirmed a ruling by a lower court recognizing Society for the Prevention of Animal Cruelty (SPCA) organizations' ability to file lawsuits against entities that violate existing animal protection laws.

Reward for information leading to the arrest and conviction of the person or people responsible for illegally shooting and killing a red wolf in Tyrrell County, North Carolina.

Animal Legal Defense Fund files motion for summary judgement with damning evidence against the university