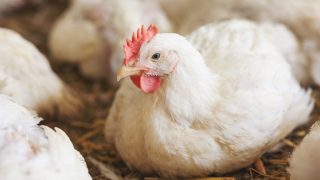 Iowa: Protect Egg-laying Hens in Iowa
This action is closed.
A dangerous bill in the Iowa legislature would force grocery stores to sell eggs from caged chickens. Many people don't support the cruel treatment of farmed animals. As a result, many major food retailers, including Walmart and McDonald's, have agreed to phase out the use of eggs from hens kept in battery cages – wire cages so small that hens can't even stand up. Battery cages can hold up to 11 hens, leaving each bird less space than a sheet of printer paper.
Instead of respecting consumers' wishes, the factory farm industry is pushing a bill that makes it illegal for grocery chains to sell exclusively cage-free eggs. We need your help to defeat this ridiculous proposal. Please take a few minutes to make a quick call to your legislators. You can find your legislators by clicking here.
A sample message: "I am _____ (name of legislator)'s constituent. I urge you to oppose House Study Bill 623 and SF 2242. The legislature should not force stores to sell products that consumers don't want – products that are cruel, threaten human health, and hurt Iowa's family farmers."
Thank you for taking the time to speak out for Iowa's farmed animals.
Related
Missouri passed a law that prohibits many products — including plant-based and cellular meat — from identifying themselves as "meat." The new legislation, which became effective on August 28, 2018, carries criminal penalties of prison time and fines.

The Animal Legal Defense Fund has filed an amicus brief in a lawsuit aimed at protecting the chickens used during Brooklyn's annual kaporos festival, and calling on the court to require the City of New York Police Department to enforce state

Animal Legal Defense Fund filed a nuisance lawsuit to shut down black market backyard slaughter operations outside of Fort Myers, Florida,