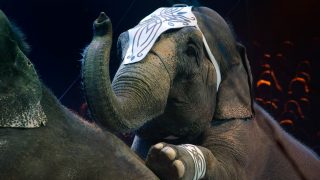 Hawaii Poised to Become the First State to Ban Wild Animal Entertainment Acts
Last week, Hawaii Governor David Ige announced his pledge to cease issuing permits for wild animal performances in the State of Hawaii. This would make Hawaii the first state in the U.S. to effectively ban wild animal entertainment acts.
Governor Ige's announcement comes twenty years after the tragic incident in Honolulu involving an elephant named Tyke, who was trained and used by the notorious Hawthorn Corporation—an exhibitor with a lengthy history of violating the federal Animal Welfare Act. Despite Tyke's history of escapes and attacks, Hawthorn still provided her to be used in Circus International at the Neal Blaisdell Center in Honolulu in 1994. While in Honolulu, Tyke went on another rampage, trampling a groomer, killing a handler, and injuring a dozen bystanders on the streets of downtown Honolulu. Local police ended up opening fire on the panicked and frightened Tyke, who sustained 86 gunshot wounds before she finally collapsed. Tyke then suffered for another two hours as she slowly died on the street from her injuries. A new documentary about the incident, called Tyke the Elephant Outlaw, currently is appearing at major film festivals around the world.
Dozens of U.S. cities have banned the use of bullhooks and other cruel training devices, and some have banned exotic or wild animal performances altogether. Just last month, San Francisco became the largest U.S. city to enact such a ban, and a Pennsylvania state senator has introduced a similar ban on traveling exotic animal acts. According to company officials, such measures played a significant role in Ringling Bros. recent decision to phase out the use of elephants in its circus.
The Hawaii Department of Agriculture plans to place the proposed policy change on its June agenda. But because that rulemaking process could take several months, Gov. Ige's has ordered the Department of Agriculture to immediately deny all further permits for wild animal performances.
ALDF applauds Governor Ige for this progressive and compassionate decision to make Hawaii the first U.S. state to end the cruel and outdated practice of using wild and exotic animals for entertainment. Recognition is also due to those advocates and organizations on the ground who engage with decision-makers to lay the groundwork for such victories. ALDF will continue to assist in these efforts by employing all litigation and legislative means help to bring an end to all further use of animals in entertainment acts.
Related
Recommendations aim to decrease risk of zoonotic disease spread, animal escapes and attacks, and psychological and physical harm to the animals

Graphic images of wound are posted on Tik-Tok by an employee of Gator Park — a facility owned and operated by Jason Clay.

The complaint asks the agency to enforce the Animal Welfare Act to protect animals exploited on social media platforms