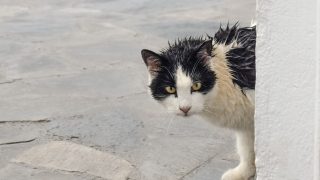 Finalize Your Emergency Plans Ahead of Irma
The Animal Legal Defense Fund is deeply concerned about the impact of Hurricane Irma. Right on the heels of Hurricane Harvey, Hurricane Irma will make landfall this week. According to current projections, the results will be devastating. The storm poses a deadly threat to the Caribbean and will likely continue on to Florida and up the East Coast. We are thinking of the many people and animals in the storm's path and urge everyone who could possibly be impacted by Hurricane Irma to finalize disaster plans that include cats, dogs, and any other animals that may be in your care.
No matter where you are located, these recent record-breaking storms remind all of us that disaster preparedness is of critical importance. Everyone should take this as an opportunity to make sure your entire family is ready for situations where you may need to shelter in place or evacuate. Animal guardians should also be aware of the Pets Evacuation and Transportation Standards Act (PETS), passed after the chaos of Hurricane Katrina, which requires states to accommodate companion and service animals in their evacuation plans if they want relief assistance from the Federal Emergency Management Agency (FEMA). Contact your state government to confirm its plans for assisting animals during an emergency.
There are a variety of resources online to help you develop an emergency plan for your family. The following resources are focused on how to make sure your animal companions are part of your plan:
Related
The $25,000 scholarship is available to a second-year law student at the University, and includes a clerkship with the nonprofit

International Fur Trade Federation's amended complaints dismissed in decisive victory for animals

This week the Animal Legal Defense Fund submitted comments to the U.S. Food and Drug Administration (FDA) advocating for accurate, consistent, and flexible labeling of cell-cultured fish and shellfish products — meat or flesh grown from the cells of fresh or saltwater finfish, crustaceans, and other forms of aquatic animal life.