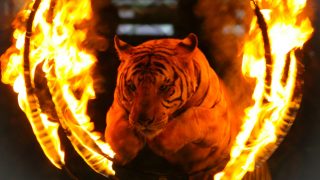 Don't Let Ringling Export Big Cats for Further Exploitation
*UPDATE: This action is closed.
On May 26, 2017, the U. S. Fish and Wildlife Service published notice that Feld Entertainment, the multi-billion dollar parent corporation of the recently shuttered Ringling Bros. Circus, is applying for an Endangered Species Act permit to export eight tigers back to a circus in Germany. Feld's application also indicates it intends to export six lions and a leopard as well.
The Animal Legal Defense Fund strongly opposes Ringling's effort to condemn these animals to continued exploitation for "entertainment" when there are humane options for the endangered animals. These big cats should be allowed to live out their lives at a reputable sanctuary where they can experience the space, habitats, and peace they need and deserve. We will file administrative comments to oppose the export permit.
You have the right to comment on the permit application. The 30-day comment window is now open. Read over our guidelines below, then register your formal comment.
Tips for Commenting on Ringling Big Cat Export Permit:
Keep your comments concise and to the point.
Share your passion! But remember to keep it clean and stay calm. Using vulgar language, "shouting" with all-caps text, or making personal attacks encourages reviewers to disregard your comment.
If you have a level of expertise in a relevant field (lawyer, scientist, etc.) be sure to mention that in your comments.
It's best to write your own comments, which have more impact than a form letter or petition.
Sample comments to personalize:
[Talk about your reaction to hearing the news that Ringling Circus was closing, and how you felt when you heard that instead of being able to "retire" to a reputable sanctuary, these big cats would be sent to Germany to endure more exploitation]

I oppose granting Ringling a Big Cat Export permit. A permit like this requires a demonstration that the activity for which the permit is being sought "enhance[s] the propagation or survival of the species." The applicant has not demonstrated this in any capacity. In fact, granting this permit directly threatens the wellbeing of the animals involved and does not help endangered species as a whole.

[Talk about how it makes you feel to witness the reality of life for circus animals. Explain what you think should happen to the big cats.]

The U.S. Fish and Wildlife Service should not employ a pay-to-play approach and continue rubber-stamping permits simply because the applicant makes a nominal donation to a conservation program. Not only do animal acts fail to educate the public and fail to enhance the propagation or survival of species, studies have shown that public display and commercial use of endangered species do operate to the detriment of wild populations of such species. Granting this permit circumvents the purpose of the Endangered Species Act.

[Summarize why you oppose granting this permit.]

Thank you.
Submit your comments before the window closes on July 21, 2017.
Related
The bill helps end the rampant abuse of tigers and other big cats in captivity by banning private possession

U.S. District Court has ruled in favor of the Animal Legal Defense Fund following its lawsuit to vacate rules imposed by the U.S. Department of the Interior in 2019 under the Trump administration that weakened the Endangered Species Act (ESA).

Reward for information leading to the arrest and conviction of the person or people responsible for illegally shooting and killing a red wolf in Tyrrell County, North Carolina.