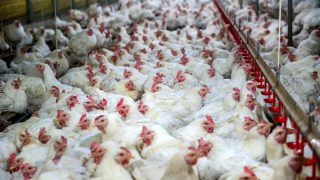 Does Every Animal Count? Not in California
120 Day Sentence Handed Down for Killing Over 900 Chickens with a Golf Club
Last fall, Animal Legal Defense Fund offered a $5,000 reward in a shocking case of animal cruelty: in California's Central Valley, four killers broke into a Foster Farms facility through a hole in the fence and used a golf club and other weapons to massacre more than 900 chickens. The bloodbath occurred early in the morning hours of September 20 in Caruthers, just south of Fresno.
However, law enforcement solved this case without resort to the reward offer. The fruits of the investigation ripened on April 15, when Gabriel Quintero, who was 18 years old at the time of the crime, was sentenced to 120 days in jail after pleading no contest to one count of felony animal cruelty and one count of second-degree burglary. The other three offenders (all males under the age of 18), face similar charges in juvenile court, where the proceedings are confidential and not subject to public scrutiny.
The depths of depravity required to beat 925 chickens to death with multiple blows from blunt instruments is difficult to comprehend—think about how long it would take to kill that many birds, even with four assailants swinging away madly.
Despite the fact that these chickens were slated for later slaughter, animal cruelty in California is a serious criminal offense, and we applaud the Fresno County District Attorney for filing this case. The good work of the DA's office notwithstanding, some might be tempted to ask: If 920 birds were killed, why was there only one charge of animal cruelty?
Under existing law, California Penal Code § 597(a), any person convicted of maliciously and intentionally maiming or killing an animal can be imprisoned for up to three years in county jail and/or fined $20,000 for felony animal cruelty. Further, California Penal Code § 597(f) expressly states that each animal harmed qualifies as separate offense.
However, this sound public policy of recognizing each individual animal as a separately actionable crime only applies to endangered animals and omits both pets and animals used in food production, like chickens.
This flaw in § 597(f) is, in large part, why Quintero faced only one count of animal cruelty (there are other reasons as well, related to the application of California Penal Code § 654 and the "same act or omission" rule). The limited scope of § 597(f) accentuates our legal system's failure to count each abused animal as a separately actionable victim. We at Animal Legal Defense Fund believe that every animal counts.
Related
Cows were killed in Madison, Brazos, and Robertson Counties, Texas.

The U.S. Court of Appeals for the Fourth Circuit handed an important win to plaintiffs in a lawsuit challenging North Carolina's Ag-Gag law, ruling that undercover investigations and whistleblowing are considered newsgathering activities protected by the First Amendment.

Reward for information leading to the arrest and conviction of the person or people responsible for illegally shooting and killing a red wolf in Tyrrell County, North Carolina.