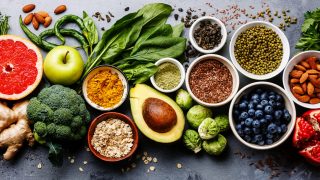 It's fun and easy to have a plant-based kitchen!
Many of the items you are already eating are cruelty-free: vegetables, fruits, pastas made without eggs, beans, tofu, tempeh and seitan, just to name a few.
The world of "fake meat" alternatives is growing larger every day. These days we have many delicious non-dairy cheese options and other plant-based foods for sale at nearly every grocery store around, not just specialty markets.
greater number of supermarkets are selling already-prepared plant-based meals. And we have more restaurant options than ever—that includes restaurants serving exclusively plant-based food, but also restaurants that have plant-based options on their menu.
And don't worry. Along with the obvious "healthier" alternatives, a plant-based—or "vegan"—diet can also include guilty pleasures. Pizza made with vegan cheese, French fries, dairy-free ice-cream, candy and sweets can all be deliciously yours.
Instead of purchasing products that are animal-based, try these plant-based foods as a tasty and healthier alternative: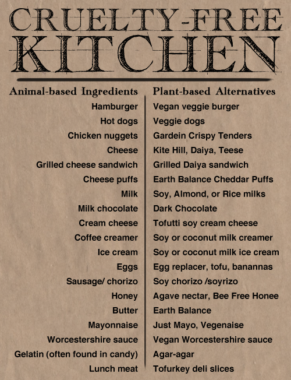 Apps:
Animal Free provides a dictionary of animal products, alternatives, as well as a barcode scanner to see if a product is vegan. Click here for Android.
Trader Joe's offers a list of its vegan products.
Vegan List has over 20,000 listings of plant-based food, candy, beer, wine, and liquor.
Related
The Animal Legal Defense Fund filed a lawsuit against the United States Department of Agriculture (USDA) under the Freedom of Information Act (FOIA) over the agency's critical redactions in a contract between the USDA's Wildlife Services program and a Colorado slaughterhouse, outlining plans for slaughtering geese rounded up in parks across Denver.

The Animal Legal Defense Fund released the second in a series of white papers — COVID-19 and Factory Farming —providing policy recommendations to address industrial animal agriculture's role in our heightened risk for zoonotic diseases outbreaks, like COVID-19, and its potential to be the source of the next global pandemic.

These awards celebrate chapters that have shown incredible efforts in advancing animal law and advocating for animals through original projects and initiatives. Animal Legal Defense Fund Student Chapters are a vital part of the growing animal law movement.