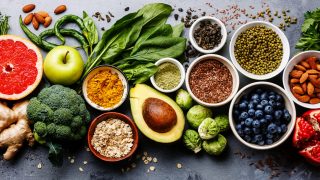 Plant-Based Kitchens
Cruelty-Free Guide
It's fun and easy to have a plant-based kitchen!
Many of the items you are already eating are cruelty-free: vegetables, fruits, pastas made without eggs, beans, tofu, tempeh and seitan, just to name a few.
The world of "fake meat" alternatives is growing larger every day. These days we have many delicious non-dairy cheese options and other plant-based foods for sale at nearly every grocery store around, not just specialty markets.
greater number of supermarkets are selling already-prepared plant-based meals. And we have more restaurant options than ever—that includes restaurants serving exclusively plant-based food, but also restaurants that have plant-based options on their menu.
And don't worry. Along with the obvious "healthier" alternatives, a plant-based—or "vegan"—diet can also include guilty pleasures. Pizza made with vegan cheese, French fries, dairy-free ice-cream, candy and sweets can all be deliciously yours.
Instead of purchasing products that are animal-based, try these plant-based foods as a tasty and healthier alternative: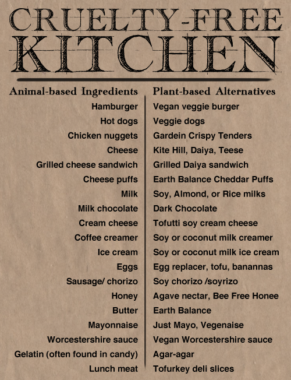 Apps:
Animal Free provides a dictionary of animal products, alternatives, as well as a barcode scanner to see if a product is vegan. Click here for Android.
Trader Joe's offers a list of its vegan products.
Vegan List has over 20,000 listings of plant-based food, candy, beer, wine, and liquor.
Related
This action is for U.S. residents only.

The victory follows the passage of a factory farming law and efforts to curtail the construction of new mega dairies in the state

Lawsuit filed by the Animal Legal Defense Fund and The Good Food Institute asserts that the law imposes unclear and vague standards on plant-based meat producers