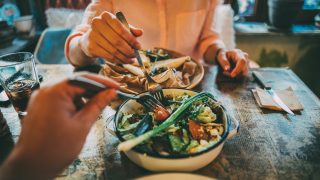 Indian, Chinese, Japanese, Thai, Vietnamese, Korean and Mediterranean restaurants often serve plant-based dishes, and many American, Mexican and Italian-style restaurants do too.
Look up the menu prior to visiting.
Explain that you specifically don't eat meat, eggs, fish, milk or butter; this is simplest.
Apps:
Happy Cow provides options for local vegan/vegetarian-friendly restaurants. Click here for Android.
VeganXpress is a convenient database of vegan options at many fast-food and chain restaurants.
Related
The Animal Legal Defense Fund filed a lawsuit against the United States Department of Agriculture (USDA) under the Freedom of Information Act (FOIA) over the agency's critical redactions in a contract between the USDA's Wildlife Services program and a Colorado slaughterhouse, outlining plans for slaughtering geese rounded up in parks across Denver.

The Animal Legal Defense Fund released the second in a series of white papers — COVID-19 and Factory Farming —providing policy recommendations to address industrial animal agriculture's role in our heightened risk for zoonotic diseases outbreaks, like COVID-19, and its potential to be the source of the next global pandemic.

These awards celebrate chapters that have shown incredible efforts in advancing animal law and advocating for animals through original projects and initiatives. Animal Legal Defense Fund Student Chapters are a vital part of the growing animal law movement.