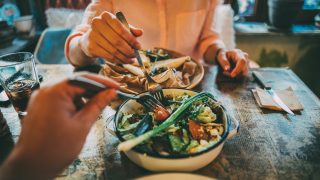 Dining Out
Cruelty-Free Guide
Indian, Chinese, Japanese, Thai, Vietnamese, Korean and Mediterranean restaurants often serve plant-based dishes, and many American, Mexican and Italian-style restaurants do too.
Look up the menu prior to visiting.
Explain that you specifically don't eat meat, eggs, fish, milk or butter; this is simplest.
Apps:
Happy Cow provides options for local vegan/vegetarian-friendly restaurants. Click here for Android.
VeganXpress is a convenient database of vegan options at many fast-food and chain restaurants.
Related
This action is for U.S. residents only.

The victory follows the passage of a factory farming law and efforts to curtail the construction of new mega dairies in the state

Lawsuit filed by the Animal Legal Defense Fund and The Good Food Institute asserts that the law imposes unclear and vague standards on plant-based meat producers