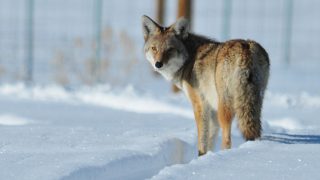 Coyote Killing Contest Organizer Settles Lawsuit
Settlement Marks First Successful Effort to Halt a Kansas Predator Derby
Contact: media@aldf.org
Ellis, KS — Today the Animal Legal Defense Fund reached a settlement with the organizer of an annual coyote killing contest, putting an end to the animal protection group's lawsuit filed early this August. Animal Legal Defense Fund attorneys argued that the killing contest was illegal under Kansas law, which criminalizes gambling enterprises.
The Animal Legal Defense Fund also alleged that the killing contest qualified as a nuisance to the Western Plains Animal Refuge (WPAR) wildlife rehabilitators who spend money to treat and rehabilitate injured target and non-target wildlife every year. Rather than engage in a legal battle over the contest, the event's organizer opted to settle. The victory marks the first time wildlife advocates have stopped a predator derby in Kansas.
The Smoky Hill Calling Contest, held in WaKeeney, Kansas, featured an entry fee of $80, and encouraged people of all ages, including children, to enter. The proceeds were designated to support local youth shooting sports, which disqualifies the bets for a charitable raffle exception. The contestant who killed the most coyotes would win $500 and a rifle.
Killing contests are cruel, inhumane and misguided attempts to reduce native wildlife populations who might prey on weak livestock. During the armed onslaught, pregnant mother coyotes are killed, pups are orphaned and packs are disrupted and displaced. Nevertheless, coyote populations almost always rebound when "teenaged" pups later have extra-large litters to make up for the pack's losses.
Unfortunately, the young, new pack leaders are less experienced than their former alphas. The result is devastating to local ecosystems, as well as livestock populations.
"These contests are not welcome in Kansas," says Brendon McCampbell, executive Director for WPAR. "We are happy this horrible event has been cancelled, and we hope others like it will also be ended soon."
"These contests are simply about blood sport, not protecting ecosystems," says Stephen Wells, executive director of the Animal Legal Defense Fund. "We're pleased that WaKeeney's coyotes will continue to hold their natural place in Kansas' wilderness without the killing contest's destructive and cruel interference."
In the settlement, the contest organizer agreed to never host or organize another a killing contest in Kansas ever again. He will also pay the Animal Legal Defense Fund more than $2,000 in attorneys' fees and costs. The Animal Legal Defense Fund will dismiss its lawsuit. The Animal Legal Defense Fund thanks the nationally-renowned law firm Polsinelli LLP for their work on this case.
Related
For years, captive wild animals have suffered in the care of traveling zoo operator Robert Sawmiller. On December 9, 2020 two wolves and a Labrador named Fancy were rescued and transported to sanctuary through legal action brought by the Animal Legal Defense Fund.

The Animal Legal Defense Fund — with the assistance of local counsel named Taylor Waters, U.S. Marshals, and the Auglaize County Sheriffs Office — executed a court order, seizing three animals from infamous wild and domestic animal breeder and broker Robert Sawmiller near Wapakoneta, Ohio.

The Animal Legal Defense Fund, the nation's preeminent legal advocacy organization for animals, is offering a $5,000 reward for information leading to the arrest and conviction of the person or people responsible for illegally trapping a coyote in Essex County, Massachusetts.