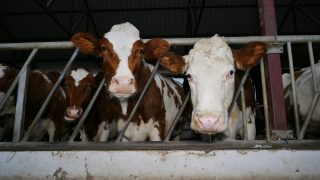 Court Allows Lawsuit Against FDA to Proceed
Judge refuses to dismiss suit over the agency's approval of controversial animal drug
Contact: media@aldf.org
WASHINGTON, D.C. — Today, the United States District Court for the Northern District of California ruled in favor of the Animal Legal Defense Fund and its co-plaintiffs, denying an attempt by the Food and Drug Administration (FDA) to dismiss a lawsuit against the agency. The lawsuit was originally filed in June 2020 challenging the agency's approval of Experior, an animal drug that claims to reduce ammonia emissions from cows on feedlots. The coalition—Animal Legal Defense Fund, Food & Water Watch, and Food Animal Concerns Trust—asserts the FDA had insufficient information to determine the drug is safe for animals, consumers, and the environment.
In its order, the court confirmed that the plaintiff organizations adequately showed how they are injured by the FDA's approval of the drug and that they followed proper administrative procedure in challenging the approval. This decision significantly empowers local residents and consumers to ensure FDA is carrying out its duties to keep animals, consumers, and the environment safe from harmful animal drugs.
"The judge's decision today proves our case deserves to be heard in court, and we look forward to continuing proceedings against the FDA," says Animal Legal Defense Fund Executive Director Stephen Wells. "The Animal Legal Defense Fund will do everything we can to ensure FDA does not allow the animal agriculture industry to push through a drug that is similar to other beta-agonists already proven to harm animals and the environment."
"Animal drugs like Experior are a false solution that do nothing to curb the massive amount of pollution that factory farms create in rural communities, and we're glad that we will be able to make our case that the FDA failed to adequately consider the harmful impacts of this drug," says Food & Water Watch Legal Director Tarah Heinzen.
These drugs lead to increased risks for both humans and animals. Beta-agonist drug residues that end up in meat products have been linked to heart and respiratory issues in consumers, and direct contact with these drugs has caused adverse effects in producers and farm workers. This class of drugs is also cruel and harmful to animals, causing them to suffer psychological stress and physically deteriorate, increasing the likelihood of them suffering, dying, and being mistreated during handling and in transit to slaughter. Experior has also been shown to raise body temperature in cows, compounding the risk of heat stroke for those who are being raised in unnatural conditions, especially in desert or drought-prone areas.
Beta-agonists have long been controversial as the FDA itself has evidence of the adverse effects they can have on animals who ingest them. Still, beta-agonists are heavily used in meat production to increase output and reduce costs for producers.
Join the Animal Legal Defense Fund's email list to stay up to date on lawsuits, legislation, and regulations affecting animals.
Sign Up Now
Related
Public interest coalition celebrates another win against unconstitutional statute barring undercover investigations at factory farms

Edie Falco narrates the Animal Legal Defense Fund film demanding transparency in factory farming

D.C. Court of Appeals rules Animal Legal Defense Fund can pursue its claims