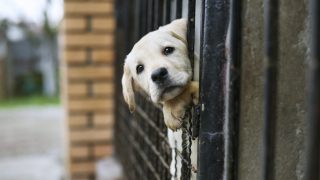 Conditions Improve for Stockton Animals After Animal Legal Defense Fund Lawsuit
Increased Adoption Rates, Decreased Killings, Increased Medical Care and Spay/Neuter
For immediate release:
Contact:
media@aldf.org
STOCKTON — The national nonprofit Animal Legal Defense Fund and Stockton resident, Emily Ballus, have settled their lawsuit against the city of Stockton, California and Stockton Animal Services for violation of local and state laws. ALDF, Ms. Ballus, and others sued the city and shelter in March, 2014 citing an ongoing pattern of abuse and neglect within the shelter, and violations of the 1998 Hayden Act––a state law that mandates that shelters provide proper veterinary care by a licensed veterinarian along with adequate food, water, and exercise. The plaintiffs also charged the shelter with violating the California Public Records Act, which requires full disclosure of public records.
Improvements in the Stockton shelter's practices became evident in the months immediately following the lawsuit's filing. Overall adoptions in the first three quarters of 2014 increased 93% over the previous year's figures. Spay-neuter procedures, which were the primary barrier to placement of the shelter's adoptable animals, also increased 61%. And unintended animal deaths while in kennel decreased by 68%—276 fewer animals—partially as a result of the hiring of a shelter veterinarian and staff to provide medical care. Perhaps most encouragingly, multiple improvements including those stated above contributed to 2,487 fewer euthanized animals at the shelter during that timeframe—a decrease of 56% in just one year.
These statistics and others reflect the most significant improvements in the Stockton shelter's history. In addition, ALDF was able to prevent the City of Stockton from amending its municipal code to default to the minimum 72-hour holding period for strays, and instead negotiated a bright-line, 5-day holding period, which is now the law in Stockton. "ALDF is pleased to see the city of Stockton, California and Stockton Animal Services make so many improvements," said Stephen Wells, executive director of the Animal Legal Defense Fund, "their rapid turnaround is still a work in progress, though, and more remains to be done to meet the full standards animals deserve under the Hayden Law."
Copies of the complaint are available by request.
Related
Today, the Animal Legal Defense Fund sued the California Department of Food and Agriculture (CDFA) for violating the California Public Records Act by unlawfully withholding records regarding living conditions of egg-laying hens in factory farms.

City of Livingston refuses to release utility records of major water consumer, foster farms.