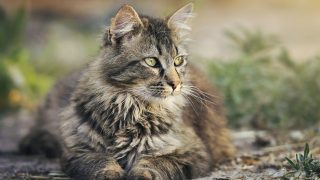 Call for Papers
Deadline: June 28, 2021
We are currently accepting submissions for a panel highlighting law student scholarship on the animal-industrial complex during the 2021 Animal Legal Defense Fund Virtual Student Convention.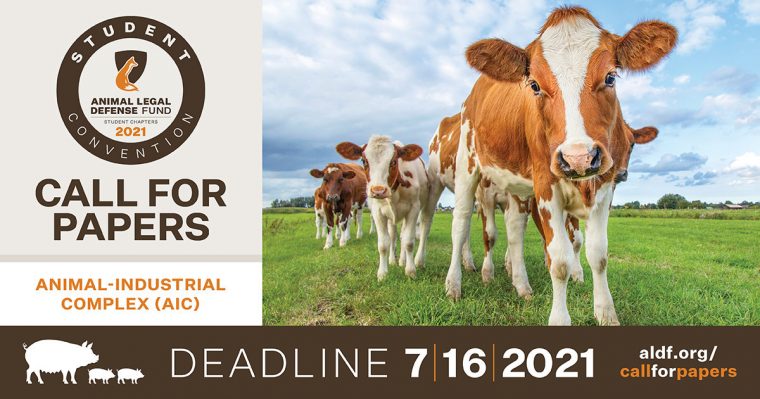 The Student Convention will provide an opportunity for students to receive career advice from leaders in animal law and network with Animal Legal Defense Fund student chapter members from law schools across the country and beyond.
The event is open to law students and will include a career panel featuring animal law experts from a variety of occupational backgrounds and interactive sessions providing opportunities to discuss issues and share ideas with other student chapter members. In addition, three students will be selected to present their papers on a Law Student Scholarship Panel.
Call for Papers
The theme of this year's Law Student Scholarship Panel is the Animal-Industrial Complex (AIC). This refers to organizational settings in which animals are subject to systematic and institutionalized exploitation, typically to create products or services for human consumption. Examples include factory farms, slaughterhouses, research labs, commercial breeding facilities, fur farms, and entertainment venues (such as marine parks and zoos). Commodification is a defining feature of the AIC. Animals are treated instrumentally as a means to an end—that end usually being profit (but not always – for example, animals used in some types of research, e.g., xenotransplantation, are killed in service of human health more than economic gain).
This topic is intentionally broad. Any paper that addresses legal pathways to reform within, or restructure of, a sector of the AIC will be considered, with priority given to papers that consider how the legal status of animals as property supports the AIC.
Panel papers will be chosen by a committee of leading animal law professors and will be scored anonymously. Authors of selected papers will be invited to present their work on the Law Student Scholarship Panel.
Submission Guidelines (please read carefully):
Author must have been enrolled in law school when the paper was written.
Papers must have been written within the last two years.
Only complete papers will be considered. There is no length requirement.
Remove identification (name and law school) from your paper but include this information separately.
Presenters must attend the convention virtually and will have approximately 20 minutes to present their paper.
Papers may be published or unpublished, but if published permission must be obtained to share the paper on the conference website.
By submitting a paper you are affirming that it has been fact-checked and sources appropriately cited.
Must be fluent in English and comfortable presenting and answering questions without a translator.
The deadline to submit a paper is July 16, 2021.
Papers should be submitted in PDF format with the paper title at the top with all other identifying information removed (name, law school, etc.) In a separate document or in the body of the email, include your name, paper title, law school, and graduation date. Send submissions to Priscilla Rader at prader@aldf.org with the subject line "ALDF Call for Papers" by July 16, 2021. You will be notified of the status of your submission by early August.
Join the Animal Legal Defense Fund's email list to stay up to date on lawsuits, legislation, and regulations affecting animals.
Sign Up Now
Related
The California Court of Appeals affirmed a ruling by a lower court recognizing Society for the Prevention of Animal Cruelty (SPCA) organizations' ability to file lawsuits against entities that violate existing animal protection laws.

Reward for information leading to the arrest and conviction of the person or people responsible for illegally shooting and killing a red wolf in Tyrrell County, North Carolina.

Animal Legal Defense Fund files motion for summary judgement with damning evidence against the university