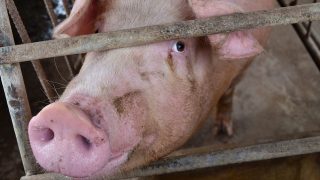 California Agencies Sued for Animal Cruelty at State Fair
Animal Legal Defense Fund Alleges Intense Confinement of Mother Pigs Violates State Law
Contact: media@aldf.org
SAN FRANCISCO –Today the Animal Legal Defense Fund, the nation's preeminent legal advocacy organization for animals, filed a lawsuit on behalf of Humane ARME and the Animal Legal Defense Fund Cruelty Prevention Unit against the California Exposition and State Fairs (Cal Expo) and Regents of the University of California for illegally confining pregnant and nursing pigs in the Livestock Nursery Exhibit at the California State Fair.
The lawsuit contends that Cal Expo and the Regents display pregnant, birthing and nursing pigs in small, cramped "farrowing crates" for three weeks every year, where the pigs are unable to walk, turn around or stand comfortably. California's anti-cruelty law explicitly requires anyone who confines animals to provide them with an adequate exercise area.
"The California State Fair should be a celebration of what is best about the state—but the intensive confinement of pregnant and nursing pigs does not reflect our laws or the values of Californians," says Animal Legal Defense Fund Executive Director Stephen Wells. "Using taxpayer dollars to fund an illegal and abhorrent exhibit is unacceptable."
Although the farrowing crate exhibit has been cancelled in recent years due to a pig virus, Cal Expo has refused to permanently close the cruel exhibit.
"Not only is the confinement of the pigs a violation of anti-cruelty laws, the mothers are forced to give birth and nurse on full public display before a fair-going audience— despite deep rooted instincts to isolate themselves during this private time," says Shannon Keith, founder and president of Humane ARME.
Today's lawsuit was filed in the Alameda County Superior Court. Copies of the lawsuit and photos are available by request. For more information, please visit aldf.org.
Related
Animal Legal Defense Fund filed a false claims lawsuit against Holden Farms. Allegations include violating federal and state laws banning "garbage feeding" and state animal cruelty law.

The U.S. Court of Appeals for the Fourth Circuit handed an important win to plaintiffs in a lawsuit challenging North Carolina's Ag-Gag law, ruling that undercover investigations and whistleblowing are considered newsgathering activities protected by the First Amendment.

Edie Falco narrates the Animal Legal Defense Fund film demanding transparency in factory farming