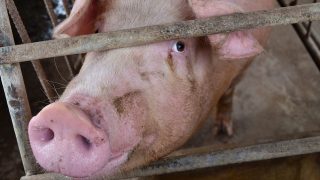 California Agencies Sued for Animal Cruelty at State Fair
Animal Legal Defense Fund Alleges Intense Confinement of Mother Pigs Violates State Law
Contact: media@aldf.org
SAN FRANCISCO –Today the Animal Legal Defense Fund, the nation's preeminent legal advocacy organization for animals, filed a lawsuit on behalf of Humane ARME and the Animal Legal Defense Fund Cruelty Prevention Unit against the California Exposition and State Fairs (Cal Expo) and Regents of the University of California for illegally confining pregnant and nursing pigs in the Livestock Nursery Exhibit at the California State Fair.
The lawsuit contends that Cal Expo and the Regents display pregnant, birthing and nursing pigs in small, cramped "farrowing crates" for three weeks every year, where the pigs are unable to walk, turn around or stand comfortably. California's anti-cruelty law explicitly requires anyone who confines animals to provide them with an adequate exercise area.
"The California State Fair should be a celebration of what is best about the state—but the intensive confinement of pregnant and nursing pigs does not reflect our laws or the values of Californians," says Animal Legal Defense Fund Executive Director Stephen Wells. "Using taxpayer dollars to fund an illegal and abhorrent exhibit is unacceptable."
Although the farrowing crate exhibit has been cancelled in recent years due to a pig virus, Cal Expo has refused to permanently close the cruel exhibit.
"Not only is the confinement of the pigs a violation of anti-cruelty laws, the mothers are forced to give birth and nurse on full public display before a fair-going audience— despite deep rooted instincts to isolate themselves during this private time," says Shannon Keith, founder and president of Humane ARME.
Today's lawsuit was filed in the Alameda County Superior Court. Copies of the lawsuit and photos are available by request. For more information, please visit aldf.org.
Related
A federal judge ruled that a lawsuit brought in February 2020 by seven animal protection groups against the U.S. Department of Agriculture (USDA) can move forward.

Actors Paul Wesley, Christina Ricci, Stevie Van Zandt and dozens of native and resident celebrities join the Animal Legal Defense Fund in an open letter urging the state's legislators to end the intensive confinement of mother pigs and calves in New Jersey.

The Animal Legal Defense Fund released the second in a series of white papers — COVID-19 and Factory Farming —providing policy recommendations to address industrial animal agriculture's role in our heightened risk for zoonotic diseases outbreaks, like COVID-19, and its potential to be the source of the next global pandemic.